5 Minute Bios: Mikie Sherrill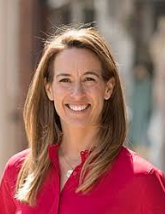 Miles Gorman, Senior Editor, Layout Editor, Writer
December 4, 2018
Rebecca Michelle "Mikie" Sherrill was born in Alexandria, Virginia on January 19, 1972. After attending college in Northern Virginia, she graduated from the United States Naval Academy in Annapolis 1994 with a Bachelor's Degree in Science. Then, in 2003, she earned a Master's Degree in Science for economic history at the London School of Economics. She then went on to earn a certificate in Arabic from The American University in Cairo and a Juris Doctor Degree from the Georgetown University Law Center.
Mikie Sherrill graduated from flight school in the first class of women that were qualified for combat. After she graduated from the Naval Academy, she became a helicopter pilot in the U.S. Navy, flying throughout Europe and the Middle East. Sherrill had wanted to fly from an early age, like her grandfather who was a pilot during WWII. She was also a Russian Policy Officer when she was the Commander-in-Chief of the U.S. Navy in Europe. In 2003, Sherrill was promoted to lieutenant commander. Sherrill left the Navy later in 2003.
Sherrill earned a degree in law at Georgetown University Law Center. In the summer, she was an associate at Kirkland and Ellis, the world's highest-grossing law firm. She then was an associate in the litigation department in their New York City office from 2008 to 2011. In 2015, she became an assistant U.S. attorney for New Jersey (a federal prosecutor) and worked in police-community relations. She left this office in 2016, seeking to go into criminal justice reform.
On May 11, 2017, Sherrill launched her campaign to become the congressional representative for New Jersey's 11th District. This was a post previously held by Republicans for 30 years. In 2018, Rodney Frelinghuysen, a Republican who held the post for a majority of the "Red Streak," announced he would not run for re-election. This may have been why Jay Webber, a Republican and a Member of the New Jersey General Assembly, announced he was running for the post on February 3, 2018. Sherrill won the Primaries with 77.4% of the vote, beating Tamara Harris. She then won the General Election 56.3 percent of the vote, beating Jay Webber (42.7). Mikie was very active on Twitter, tweeting thank-yous, support, articles, and more, and even live-tweeted her acceptance speech to thousands of viewers. Mikie has many plans to improve the 11th District and is currently in Washington, D.C. for preparations for her upcoming position as congressional representative.
Bibliography:
Main Page. (2018, November 24). Retrieved from https://www.wikipedia.org/
Main Page. (n.d.). Retrieved from https://ballotpedia.org/Main_Page
Twitter. It's what's happening. (n.d.). Retrieved from https://twitter.com/