The Dreadful World of Fast Fashion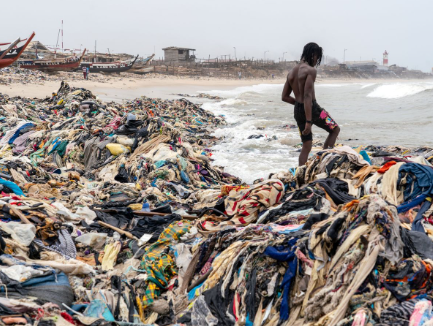 Olivia Drivas, Layout Editor, Writer
June 11, 2023
     Fast fashion– what is it? Have you ever heard of clothing hauls, or have done clothing hauls? Perhaps you've bought from Shein, Primark, GUESS, H&M, and many more. But are you aware of the harmful effects of your purchases? The fashion industry moves at a rapid pace, and so do the people who follow it. Fast fashion is deemed unsustainable, harmful, and unnecessary by many people and professionals. Did you know that many of the clothes that you dispose of end up in landfills, and even places that aren't designated for trash? There are endless reasons why fast fashion isn't good for our world, the environment, and the people. 
     Fast fashion, by definition, is clothing that is inexpensive and up to the standards of trends. These trends, however, come and go very fast. This means that clothing like this easily gets tossed, and consequently ends up in landfills or in our oceans. Unfortunately, it's not that easy to get rid of this process because most people are very keen on fashion trends, and in order to feel a sense of fulfilment, many tend to follow fast fashion. 
What Is Fast Fashion?
     Mass production hinders the fashion industry at multiple levels. Fast fashion has secrets that people are now slowly starting to become aware of, such as factors that include unpaid labour, environmental impact, and brainwashing. A store is carefully built for marketing; welcoming and inviting. Usually the store will have some sort of display to catch the consumer's attention and pull them in. However, these fashion giants have dirty work behind their clean-cut signs and dazzling lights. Have you ever checked the tag of a piece of clothing and noticed a label which writes "70% recycled polyester" on it? This is most often to manipulate the buyer in order for them to feel better about their purchases. It is also a playing factor that these pieces of clothing come in cheap, and over half the time from unpaid labour. A buyer is likely to purchase many clothes if they are cheap – and even more likely when they are told that the clothing they are buying is sustainable.
    The fashion industry is now lacking sustainability. Fashion giants such as Bershka and Zara are falling victims to allegations of unviable work environments and forced labour. The Western world moves rapidly in fashion, and it is becoming impossible for the rest of the world to catch a break. Trendy clothing is reportedly worn a maximum of seven times before being disposed of. Conversely, discarded clothing is washing up on the shores of Chile and Ghana. This is affecting the lives of many life forms that prosper in the ocean area. It becomes harder for the people to access the sea for fishing and transportation. This is the effect of mass production, the ignorance of the corporate world, and the consumers who tolerate this process as well.
How Can You Help?
     It's frightening to think about all of these negative effects that endanger our world and people. It is especially scary to think about when you know that you are the cause of all this as well. But unlike the inevitable forces of mother nature, like an asteroid hitting earth, humans can make conscious decisions about how they do things in order to maintain life. Here are a few things you, as an individual, can do to help stop the cycle of fast fashion:
Buy clothing only when you have outgrown yours, or limit the amount of products you buy that come from your pure interest.

Buy clothing second-hand.

Donate your clothing to your local clothing & shoe bins or to an organisation that accepts used clothes.

Wear pieces of clothing at least thirty times.

Advocate against fast fashion and mass production by spreading the word.

Avoid tossing clothing quickly, give your unwanted clothing or accessories as a gift to friends or family.

If you believe you may have a shopping addiction, here are

ways to stop it.
Be the change. Do your part against fast fashion!