Have you ever looked for shapes in the clouds? It's always fun to find familiar shapes in the sky. Just recently, astronomers were delighted to find another familiar shape in the sky. NASA's James Webb Space Telescope is designed to capture images of space that their previous telescopes weren't able to see. The telescope captured a photo of 'newly forming stars', according to scientists. The thing is, a little mystery existed in the bottom center of the picture, a little question mark glowing deep in space!
While it may seem that strange happenings are afoot, such as aliens, or a 'glitch' in the universe, scientists are searching for a more realistic explanation. The photos of the two baby stars were found about 1,470 million light years away, in the Vela galaxy of the Milky Way. However, scientists say that the question mark was even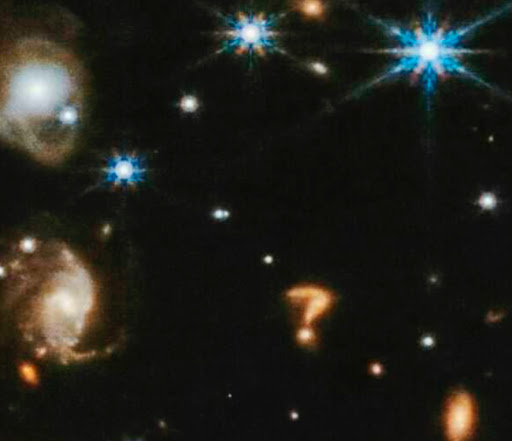 further away. 
"The first thing that you can rule out is that it's a star in the Milky Way", states Matt Caplan, a physicist from Illinois State University. "Stars always have these really big spikes, and that's because stars are point-like." 
Another thing to note is that this phenomenon is really far away. The color, a rusty orange, shows that the question mark is billions of light years away – or closer, but hidden by dust in space. 
According to David Helfand, an astronomer, from Columbia University, "The question mark also appears to be made up of two distinct bodies: the curve and the dot."
Helfand says that the two parts of the question mark may be completely unrelated, just two different galaxies floating in space captured at the right angle so that it looks like a question mark. However, the question mark could be two galaxies merging together. A 'tidal tail', or a long, thin chain of stars, dust and space matter, could be what makes up the tail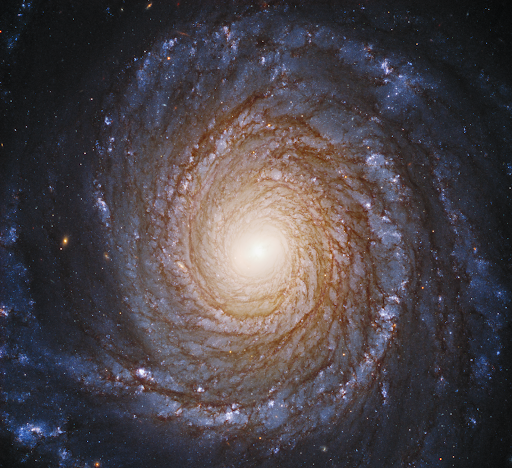 of the question mark. This often happens when different galaxies interact with each other.
Kai Noeske, the communication program officer from the European Space Agency states, "The upper part of the question mark looks like a distorted spiral galaxy, maybe merging with a second galaxy." A spiral galaxy is one like the Milky Way, a rotating disk with some branches coming out of the circle. 
This isn't the first time that out-of-the-ordinary shapes have been found in space. In 2008, the Hubble telescope captured some galaxies that looked vaguely like a question mark, and in 2009, the Hubble took a picture of seemingly connected galaxies, but those ended up being many light years apart. So, what can we say about potentially finding more questions in space? We'll probably find them – if not as literally as this one!
Osborne, Margaret. "What Is This 'Cosmic Question Mark' Captured by the James Webb Space Telescope?" Smithsonian Magazine, 21 Aug. 2023, www.smithsonianmag.com/smart-news/what-is-this-cosmic-question-mark-captured-by-the-james-webb-space-telescope-180982761.
Rogers, Kristen, et al. "NASA Telescope Spots Cosmic Question Mark in Deep Space." CNN, 14 Aug. 2023, www.cnn.com/2023/08/13/world/question-mark-galaxy-space-james-webb-telescope-scn/index.html. Accessed 15 Sept. 2023.
"Spiral Galaxy NGC 3147." Hubble, hubblesite.org/contents/media/images/2019/35/4545-Image?news=true.
Treisman, Rachel. "People Are Freaking Out Over a Question Mark Seen in Space. Scientists Can Explain." NPR, 17 Aug. 2023, www.npr.org/2023/08/17/1194212940/question-mark-space-webb-telescope-photo.