March Madness: Not Over Until the Clock Hits Zero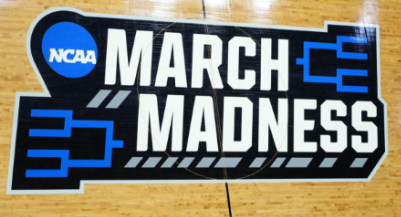 Have you ever been to a March Madness game? If you haven't, you might not understand what a game or a true upset could be. Most people would rather play a sport than watch a sport, but for sure, one of the most popular sports when it comes to College Basketball is March Madness. March Madness is one of the most popular sports events in the United States, with an estimated 70 million people who fill out a bracket to pick who they think will win the tournament. What makes this tournament so special is that 68 teams out of 358 in the NCAA Divison 1 make it and compete in the tournament for bragging rights and money raised for the school that takes home the Naismith Trophy.                                                                                
History
     March Madness started in the year 1939, with just 8 teams in the tournament. In the end, Oregon was the first NCAA tournament champion, beating Ohio State for the title. For multiple years the NCAA tournament field grew to 16 teams in 1951, doubled to 32 in 1975, and expanded to its current size of 64 teams in 1985. The term "March Madness" was first used in reference to basketball by an Illinois high school official, Henry V. Porter, in 1939. 
The most championships ever won by a college is held by the University of California, Los Angeles (UCLA), as they won 11 national championships including a stretch of seven titles in a row between 1967 and 1973. 
Teams/Upsets
     In March Madness, there are multiple upsets in the field. An upset is an unexpected win by a lower-seed team (a team that is not projected to do well). In seeding, teams are ranked from 1 to 16 based on how you do in the regular season. One of the four number-one teams is mostly projected to win the NCAA title game but can certainly be taken down and lose in the first round. What can make March Madness so much fun is that anything could happen when it comes to the bracket/pool. In particular, last year in the 2022 NCAA tournament, North Carolina (the 8th seed), ended up making it to the finals against one of the number 1 teams in Kansas, with a score of 72-69 as Kansas took home the Naismith Trophy.  Most upsets can be noticed beforehand by the fact of the teams' stats, conference, and points per game.
Brackets
     People love March Madness because of the ability to fill out a bracket and having the chance of winning based on the number of points you receive at the end. Since there are so many brackets being filled out you could compete for prizes and be able to play with your friends in the same group. 
     An estimated 45% of Americans end up filling out brackets to follow their team and watch the game that they love at the same time. Some people end up making one bracket with their favorite team, others like to make one who they think could actually win based on how they did during the season. 
     As you can see, March Madness is loved throughout the basketball community which makes people love to fill out brackets and be able to root for their favorite team at the same time. Who were your picks for March Madness? 
Work Cited
"March Madness history: A comprehensive guide to the men's tournament." NCAA.com, 23 March 2023, https://www.ncaa.com/news/basketball-men/article/2023-03-08/march-madness-history-comprehensive-guide-mens-tournament. Accessed 11 April 2023.