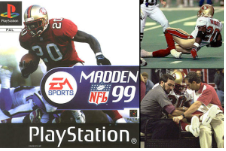 One of the most iconic sports video games of all time is the NFL football game, Madden. Every year since the game was released in the year 1999, there has been an individual who had a great season the previous year who is featured on the cover of the game. However, there is a myth swirling about this game that explains how once a player is featured on the cover of Madden, something tragic happens to them. In this article I will be showing some of the most notable Madden Curse victims and how it has affected them.
The first time that this mythical Madden Curse ever hit was in the year 1999, when Garrison Hearst was featured on the cover. Hearst, after appearing on the cover, led the 49ers to a great season, but broke his ankle in the playoff. This injury was so awful and destructive that he missed two entire seasons and never was the same explosive back ever again.
Another sensational back that was hit by this curse was Marshall Faulk in 2003. Faulk was coming into this season looking amazing with having at least 1,300 rushing yards in each of his last seasons. The season that he was placed on the cover, though, the wheels seemed to fall off; he missed almost a third of his starts and he never exceeded a mere 1,000 rushing yards ever again in his career. 
Again, in 2005, Baltimore Ravens linbacker Ray Lewis was also on the cover. In this year, Lewis had zero interceptions and the Ravens missed the playoffs. Also, the curse seemed to carry into the next year for Lewis as he missed 10 games the next year. 
Even though it seems as if the Madden Curse destroyed players' seasons or even careers, some cover athletes made it seem as if the curse was just a myth. In 2013, when Calvin Johnson was on the cover, the following season he posted an unfathomable 1,964 recieving yards. Another player that seemed unfazed by the Madden Curse was another spectacular wide receiver during his prime, Odell Beckham, Jr. After being on the cover in 2015, Beckaham burst out into the show that year dazzling and torching defenses for 1,400 receiving yards. 
In conclusion, the Madden Curse seems as if it could very well be real, as well as a myth, based off of some of the cover athletes. This year in 2024, Josh Allen is the cover athlete. Do you think Josh Allen will be cursed or will he evade it as he does seem to have the AFC East defensive lineman in his pocket?
Works Cited
Benjamin, Cody. "Does 'Madden' cover curse still exist? A look back at 25 years of NFL stars offers a verdict." CBS Sports, 7 June 2023, https://www.cbssports.com/nfl/news/does-madden-cover-curse-still-exist-a-look-back-at-25-years-of-nfl-stars-offers-a-verdict/. Accessed 3 October 2023.
Fabiano, Michael. "Is the Madden Curse Still a Thing?" Sports Illustrated, 17 June 2021, https://www.si.com/fantasy/2021/06/17/history-madden-nfl-curse. Accessed 3 October 2023.
"Madden Curse: A Complete History of the Cover Curse." Bleacher Report, https://bleacherreport.com/articles/827836-the-history-of-the-madden-cover-curse. Accessed 3 October 2023.