Unity is Strength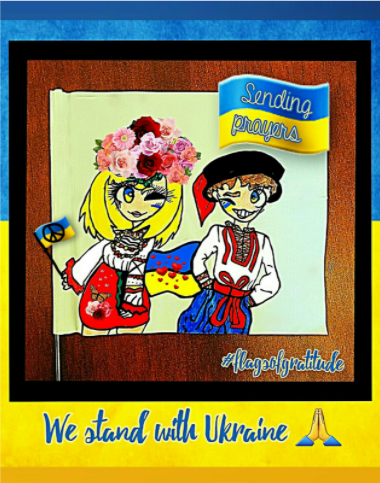 Ever since the war broke out in Ukraine on February 24, 2022, many people around the world became deeply saddened by the devastation and loss of life that has taken place. Each day we watch the news in horror as the Russian aggression against the Ukrainian people continues. Most people feel obliged to help and want to do their part as citizens, even if in a small way.
On Wednesday, March 16th, 2022, the members of my Scout BSA Troop 1936 (Morristown) had a humbling and heartwarming opportunity to work with a Ukrainian Plast (Scout) Unit at the Ukrainian American Cultural Center of NJ, in Whippany. We formed two large assembly lines putting together medical supply kits. In approximately one hour, all the volunteers worked diligently to assemble over 1,000 medical kits which would be sent to the brave Ukrainian soldiers defending their country.
Many of the children had handwritten notes and drawings of support and encouragement. A few weeks ago, I made a special flag with my artwork to show my support for Ukraine. My mom made over 50 copies of my drawing that I brought with me that night. I felt honored to have this drawing placed within each large supply box of medical kits.
In my illustration, the clothing the Ukrainian couple is wearing is based around their traditional culture. The "Vyshyvanka" is a piece of clothing that is worn with jeans or shorts. The women wear skirts that fall to their knees, while men wear black, blue, or red pants that extend to their shins. I wanted my drawing to capture the essence of Ukraine while displaying a message of support and solidarity.
The artwork that I draw is part of my 2-year community service project called Flags of Gratitude, which started at the end of my 4th-grade year in March 2020, at the beginning of the pandemic. I draw pictures and use inspirational messages on white marker flags and give them to first responders, veterans, health professionals, businesses, nonprofits, and community volunteers. It's my way of giving back to our heroes. My mom and I also make my flags into Mixtiles (framed photographs that are easily hung on the walls) to raise money for various charities. I have raised $6,000 to date for local charities, including Good, Grief, and St. Hubert's, and am close to raising another $5,000 for Jersey Pits Rescue.
Since so much is needed to aid in the humanitarian crisis in Ukraine, I thought it would be nice to use my Ukrainian flag to sell merchandise to not only show support, but also raise money for the Ukrainian American Cultural Center of NJ. My mom helped get tote bags and apparel made with my flag design. With hope, whatever profit I make from these sales will be used to donate to their nonprofit organization to support them.
Our hearts and prayers are with all the families and friends affected by this war.
If you are interested in supporting the Ukraine crisis, please check out Siara Gupta's article with great information on how you can support Ukraine. Also, check out Vincent Achillare's article that contains information about the Russian-Ukrainian war.
Also, please be sure to check out my website www.flagsofgratitude.com to learn more about my community service project. If you are interested in purchasing any of the "We Stand With Ukraine" merchandise from my website, you will be helping in my efforts to raise money for the Ukrainian American Cultural Center of NJ in Whippany. Thank you so much for your support.
"Unity is strength. When there is teamwork and collaboration, wonderful things can be achieved!"