McGwire vs. Sosa: The Great Home Run Race of 1998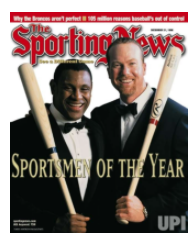 The Home Run. Defined as, when a baseball is hit (most commonly) over the fence in fair territory, allowing the batter to score automatically. Roger Maris held this single-season record for the most home runs, way back in 1961. That record stood strong, until 1998 that is. Here's a rundown of what was happening in the Spring of 1998: Sammy Sosa, an outfielder for the Chicago Cubs, would hit a massive home run. If you took a five-hour drive, there is a very good chance Mark Mcgwire, the 1st baseman for the St. Louis Cardinals, would hit one just the same. These baseballs would soar over a crowd of shocked men and women, hit so far it seemed they had hit off the moon, and then land somewhere in the hands of a jubilated fan. After adding up the numbers from the MLB's (Major League Baseball) official records, these two men alone hit the ball over 50,000 feet! That's almost ten miles. This doesn't even seem possible. That's because it technically wasn't. This astonishing home run race was littered with PEDs (Performance Enhancing Drugs) and steroids. Either way, what Mcgwire and Sosa did that summer was something we will never see again for a very long time.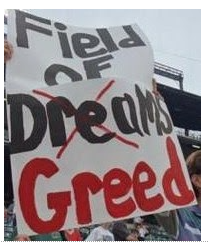 Mark McGwire
The only thing I can accurately compare Mark Mcgwire to is a monster. This guy was 6 feet 5 inches tall and 225 pounds. McGwire was a man amongst children. He had tree trunks for biceps and the amount of muscle on him is hard to believe (which is ironic because his nickname was "Big Mac"). All Mcgwire had to do was make contact, and that ball was going to fly. Big Mac was thrown into the Athletics lineup his rookie year in 1986.
Funny enough, the same guy who hit seventy home runs in '98, only hit three home runs his rookie year! After that, however, he took off. McGwire reigned over the MLB for seventeen years. During his last five years, he was a part of the St. Louis Cardinals. McGwire was the favorite for the race going into the season of '98. He hit gargantuan home runs and was the face of the St. Louis franchise. People came to the ballpark to see McGwire. According to The Baseball Almanac, McGwire finished this record-breaking season with only five hundred nine at-bats! That's a fourteen percent home run percentage, which may seem low, but the average is just above half of that. Simply put, he was a machine. In the end, McGwire won the race, breaking the previous home run record by a fair margin. Unfortunately, even when you look at him, you can tell that something brewing in his body wasn't all-natural. Throughout the mid-'90s, Mcgwire missed well over a full season with injuries. He emotionally states, "It was definitely a miserable bunch of years, and I told myself that steroids could help me recover faster. I thought they would help me heal and prevent injuries, too." Some people could take this in different ways, but I will give him the benefit of the doubt. Being kept away from the game you love must be difficult, and you want the quickest way possible to get back. In addition to this point, you can inject and swallow whatever you want, but it isn't going to physically hit the baseball. McGwire knew how to do that, and he excelled at it. That should not be taken away. 
Sammy Sosa
The other side of this battle, Slammin' Sammy Sosa. How could you not root for this guy? He was the underdog, the David against Goliath. Sammy Sosa seems like the guy in the neighborhood that everyone loved. That's exactly how it was. In this town of Chicago, everyone loved him. At a Wrigley Field game in 1998, you would see countless signs with Sosa's face plastered onto a piece of cardboard. He by no means was 6 foot and 5 inches tall, but he could hit better than anyone. Slammin' Sammy's career in the big leagues lasted eighteen years. He began his career with the Texas Rangers and was quickly dealt to the White Sox. He played well with them until he was passed onto the Cubs in 1992. He began to thrive with them, as his home run count continued to slowly rise. In 1998, he hit sixty-six home runs, also breaking Maris' record. Two men breaking a record held for twenty-eight years, in the same year? Seems a little fishy to me.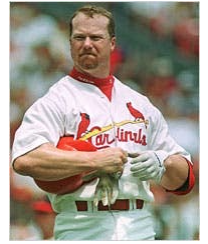 Similar to McGwire, Sammy Sosa took steroids- maybe? That's the thing about Sammy Sosa: people say he owns the title of "Home Run King" because he did it clean. McGwire admitted to taking steroids, whereas Sosa officially had not. He has denied this since his almost record-setting season. However, the New York Times reported he was on a list of players who have tested positive for steroids. So, who do we believe? This home run race was right in the middle of what is known to baseball fans as "The Steroid Era". Steroids were technically allowed during this time. This brings up a whole entire side argument, Was Mcgwire Really Cheating? Again, I would like to give Sosa the benefit of the doubt. His accomplishments, with or without steroids, we will never know, are truly amazing.
How These Men Revived Baseball
In the depressing season of 1994-1995, for the first time in baseball history, there was going to be no World Champion. People were truly upset about the players and owners not agreeing upon their contracts. The main reason for this strike was the players felt their paychecks weren't enough. The Field of Dreams became famously titled,  "The Field of Greed". It sent baseball into a whirlwind. America's National Pastime was canceled because players, almost all of the multi-million dollar athletes, were complaining about not being paid enough. It may seem ridiculous because it was.  Four million dollars isn't enough for you? (I'll gladly take it!) Fans got angry, understandably. They lost interest. Nobody wanted to watch a bunch of greedy men play a children's game. It was a bad time for baseball, not just for TV and the economical aspect, but for the love for the game. The men that kids all across the country looked up to, vanished.  However, this 1998 season came around, and baseball fans got excited because of Slammin' Sammy and Big Mac. According to The New York Times, McGwire's record-setting home run had 43.1 million fans tuning in. That's nearly more than three times the views for the 2021 Olympics! People were intrigued, on the edge of th
eir seats to watch David and Goliath come for Roger Maris. Quite frankly, it brought back baseball. The love for America's Pastime returned, ratings for a TV shot up. Personally, I love baseball. I idolize the stars of the Major League today. Seeing all of that go away would hurt. It may seem silly, but baseball has an impact. Simply put, People. Love. Baseball. The 1994-1995 season was a dark time for baseball. McGwire and Sosa brought it back to life. The MLB was back, mainly because of these two guys. 
Overall, I wanted to highlight the achievements and accomplishments of these men, and what they did way back in 1998. They both broke a previous record, hit the ball just under ten miles. Not to mention they brought back an entire sport.  What McGwire and Sosa did in that summer was one of a kind (or two)? The steroid aspect of it does take away from both ballplayers' seasons. However, as I said before, no amount of steroids are going to make the ball hit the bat. Big Mac and Sammy did it, and they did it really well. 
Works Cited
Baseball Almanac, Inc. "Mark McGwire Baseball Stats." Baseball Almanac, www.baseball-almanac.com/players/player.php?p=mcgwima01.
Baseball Almanac, Inc. "Sammy Sosa Baseball Stats." Baseball Almanac, www.baseball-almanac.com/players/player.php?p=sosasa01.
IV, Bob Garcia. "Mark McGwire's Reason For Taking Steroids Isn't What You'd Think – Sportscasting: Pure Sports." Sportscasting, 14 June 2020, www.sportscasting.com/mark-mcgwires-reason-for-taking-steroids-isnt-what-youd-think/.
Insiders, Presented By Cubs. "Why Sammy Sosa-Mark McGwire 1998 Home Run Race Was Bad for Baseball." RSN, 8 June 2020, www.nbcsports.com/chicago/cubs/why-sammy-sosa-mark-mcgwire-1998-home-run-race-was-bad-baseball#:~:text=Sosa has long denied ever,performance-enhancing drugs in 2003.
Myerberg, Paul. "Sammy Sosa Says He Never Failed Test for PEDs: 'Of Course I Belong to the Hall of Fame" USA Today, Gannett Satellite Information Network, 15 June 2020, www.usatoday.com/story/sports/mlb/2020/06/15/sammy-sosa-discusses-steroids-makes-case-hall-fame-induction/3190362001/.
Red, Christian. "Hall of Famer Carlton Fisk Blasts Mark McGwire for Saying Steroids Didn't Give Slugger a Boost." Nydailynews.com, New York Daily News, 11 Jan. 2019, www.nydailynews.com/sports/baseball/hall-famer-carlton-fisk-blasts-mark-mcgwire-steroids-didn-give-slugger-boost-article-1.461261.
Rich, Motoko. "Little Interest for Book by McGwire's Brother." The New York Times, The New York Times, 23 Jan. 2009, www.nytimes.com/2009/01/23/sports/baseball/23mcgwire.html.
Rumore, Kori, and Chad Yoder. "Sammy Sosa vs. Mark McGwire: A Game-by-Game – and Home Run by Home Run – Timeline of Their Race in 1998." Chicagotribune.com, Chicago Tribune, 12 June 2020, www.chicagotribune.com/sports/cubs/ct-cb-chicago-cubs-sosa-mcgwire-20200610-mdfp2tcwsbbhjogduex3yjszf4-htmlstory.html.
Sandomir, Richard. "Also King of Ratings and the T-Shirts." The New York Times, The New York Times, 10 Sept. 1998, www.nytimes.com/1998/09/10/sports/baseball-also-king-of-ratings-and-the-t-shirts.html.