DIY Valentines
Hang on for a minute...we're trying to find some more stories you might like.
Every year, millions of Americans celebrate Valentine's Day. They exchange cards, gifts, chocolates, etc. Here are some DIY, easy-to-make valentines that you can create this year!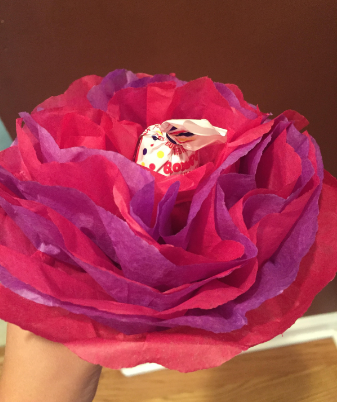 Tissue Paper Flower Lollipops
You'll need:
Tissue paper

Stapler

Hole puncher

Scissors

Lollipop
Cut 9 squares that measure 8in x 8in out of tissue paper.

Stack the squares on top of each other. If you are using multiple colors, alternate them.

Fold over one edge of the stacked tissue paper in a 1 inch strip.

Flip over the stack and fold the opposite way. Keep doing this until the whole stack is complete. You will end up with something looking like an accordian or a fan.

Cut both ends into a curved shape.

Unfold the stack and find the fold closest to the middle. Refold along the middle crease and punch a hole on the edge so that you have a hole in the middle of your squares.

Insert the lollipop into the opening. If the wrapper of the lollipop is sticking out and making it hard for you to fit it in the hole (like mine was), you can tape it down. Then, replace all the folds.

Staple on both sides of the lollipop stick. Get as close to the stick as possible.

Carefully separate the layers of tissue paper on both sides of the lollipop, fluffing it out as you go to resemble a flower.
This project may look complicated, but it is fairly simple. I like this because it is easy but pretty; perfect for Valentine's day.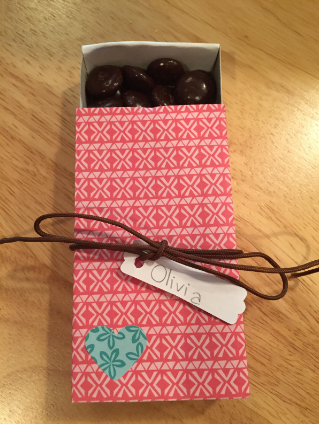 Matchbox Valentines
You'll need:
An empty matchbox

Decorated paper

Scissors

Some sort of small candy

Tape/glue

String (optional)
Cut a piece of paper wide enough so that if fits around your matchbox.

Glue/tape the paper around the matchbox.

Fill the box with small candies, such as M&M's or candy corn (I used Junior Mints).

Tie a piece of string around the matchbox or write a name or initial on it (optional).
I like this Valentine because 1) who doesn't like a box filled with a bunch of candy?! and 2) it is a fun activity and turns out looking (and tasting) great.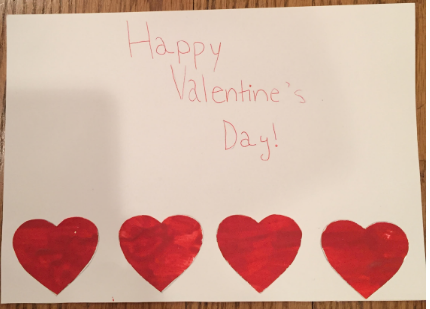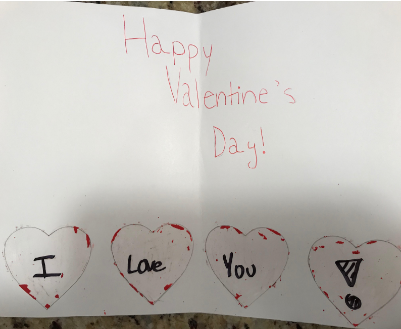 Scratch-off Valentines
You'll need:
Acrylic paint

Liquid dish soap

Paper

A paintbrush

Pen/colored pencil/marker

A small bowl/cup

Clear contact paper

Scissors
Write a message on a sheet of paper.

Cut out a piece of contact paper that is slightly larger than what you are going to cover.

Trace what you are going to want to cover onto the paper side of the contact paper.

Mix 2 parts paint and 1 part dish soap in a small bowl/cup.

Paint the contact paper with the mixture. Keep painting until it is opaque.

Once the paint has dried, cut out the shape(s), peel the backing off the contact paper, and stick them onto your paper over your message.

Scratch off the paint with a coin.
This is a really fun project, where you can be creative and use your imagination. If you want your card to be more colorful, you can make different parts of the scratch-off sections different colors by using paints that are different colors. Also, you need the contact paper or else when you go to scratch it off it scratches the paper as well (I learned that the hard way).
References:
Craftknowitall, and Instructables. "How to Make a Scratch-off Valentine." Instructables.com, Instructables, 30 Oct. 2017, www.instructables.com/id/How-to-Make-a-Scratch-off-Valentine/.
Fisher, Stephanie Shore. "How to Make Tissue Paper Flower Lollipops for Valentine's Day." Good Housekeeping, 31 July 2017, www.goodhousekeeping.com/holidays/valentines-day-ideas/a42463/diy-tissue-paper-flower-lollipops/.
Reynolds, Brooke. "Inchmark Journal – My Little Valentine." Inchmark, 9 Feb. 2009,
inchmark.squarespace.com/inchmark/2009/2/10/my-little-valentine.html.