Why Stay Physically Fit?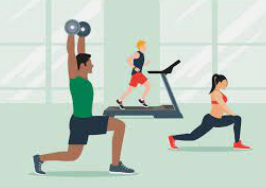 Did you know that mental disorders have a huge impact on today's society?  Mental health is extremely important — crucial, in fact — to a happy, healthy life. Exercise is one of the best ways to improve mental health, with its astonishingly effective results.
Effects
     Exercise has a massive impact on mental health. Not only can it help ease depression, but it can also lower your blood pressure, improve your cholesterol profile, help control blood sugar and reduce your risk for heart disease, diabetes, and common cancers. And of course, exercise can make it possible to achieve and maintain a healthy weight.
Motivation
     Motivation is a key part of growing mental health-wise. Physical activity is one of the best ways to improve mental health. Just be cautious of overdoing it! Some people start working out because they're motivated by something extrinsic, or outside of themselves. Maybe they want to look great for a future event or are training for a competition.  These reasons are amazing, but you may want to take a second to acknowledge that you are also doing great things for your body, providing even more motivation for you!
Keeping Up Exercise
     Establishing a pace you can enjoy and be comfortable with is key to taking strides towards a better mood. If you enjoy running, challenge yourself with a goal of ten thousand steps. If you lose interest, try something new – start practicing yoga, or get into cycling with a few friends. Remember, any amount of exercise can help. If you aren't meeting previously set exercise goals, don't worry. Just do your best to work toward them! Some physical activity can still reduce the negative effect of mental disorders.
     In conclusion, fitness is a great suggestion to improve the mental health of any struggling individual. Even if you are not struggling with mental health, fitness may still boost your confidence. What kind of fitness will you try this summer?
Citations:
https://health.clevelandclinic.org/get-happy-exercise-can-lift-mood-infographic/
https://health.clevelandclinic.org/a-trainers-tips-for-sticking-to-your-new-exercise-routine/