5 Spring Picnic Recipes
Spring is here! That means flowers, animals returning from hibernation, warm weather, and of course delicious food! Here are 5 recipes to feed your appetite. A berry splasher, pasta chips, greek pasta salad, caprese bites, and mini tacos! Don't those sound delicious? Keep reading to find out how to make these mouthwatering delights!
Berry Splasher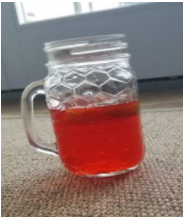 Ingredients:
0.13 oz. package of cherry drink mix (We used Kool-Aid)

6 cups of white cranberry juice

¼ cup of sugar

2 cups of water

Mint to garnish (optional)
Directions:
Mix cherry drink mix, white cranberry juice, and sugar with water until sugar is dissolved.

Cover and chill.

Garnish with mint and serve.
Reviews:
"A little sweet for me." – Alison B.
"Super easy to make!" – Ava B.
(Option: If it is to sweet, don't add as much sugar.)
Pasta Chips
-Please Note parental supervision is needed-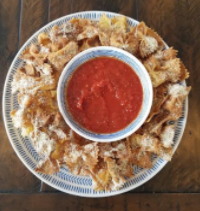 Ingredients:
1 lb. bowtie pasta

Vegetable oil (frying)

1 tsp. Italian seasoning

1 tsp. Garlic powder

½ cup

finely

grated parmesan

Kosher salt

Freshly ground black pepper

Marinara sauce for serving
Directions:
In a large pot cook pasta in salted water until al dente (firm) for around 8 minutes. Then, drain the pasta.

In a deep, large skillet add about ½ inch of vegetable oil and heat over medium heat.

When shimmering, add a cup of pasta and cook until golden brown and crispy (about 2 minutes each side).

When taken out, dry with a paper towel and season with blend of italian seasoning, garlic powder, cheese, salt, and pepper.

Repeat steps two and three working in batches with the rest of the pasta.
Reviews
"Definitely need adult supervision with the frying!" – Ava B.
" Absolutely delicious!" – Alison B.
"This one is my favorites." – Jackie M.
Caprese Bites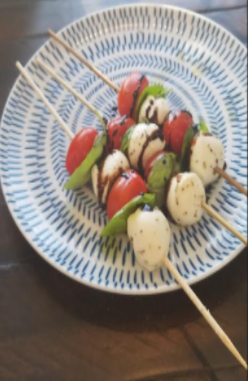 Ingredients:
8 oz. Mozzarella balls

2 tbsp. Extra-virgin olive oil

1 tsp. Italian seasoning

¼ tsp. Crushed red pepper flakes

Kosher salt

Cherry tomatoes

Fresh basil leaves

1 cup balsamic vinegar

Skewers
Directions:
In a small bowl, mix together, olive oil, crushed red pepper flakes, and mozzarella balls. Then, season with salt a set aside.

Add them on the skewer in this order: Tomato, basil, mozzarella, tomato. (We added an extra mozzarella ball and basil leaf as seen in the picture).

In a skillet or small saucepan, bring the balsamic to a low simmer. Let it thicken until a syrupy consistency. (About 15 minutes. Then, set aside to cool and thicken.

Drizzle with glaze and serve.
Reviews:
"Refreshing." – Jim B.
"This is good." – Jackie M.
Mini Taco Salad Cups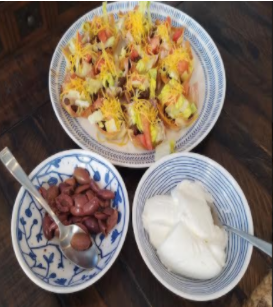 Ingredients:
2-inch round wonton wrappers

1 cup Refried beans

½ cup chopped romaine lettuce

1 diced Roma tomato

¼ cup sliced Kalamata olives

2 tablespoons sour cream

2 tablespoons fresh cilantro
Directions:
Preheat oven to 350 F. Lightly coat a 12-pan muffin/cupcake pan with a nonstick cooking spray.

Place a wonton wrapper into the tin and make an opening in the center. Put it into the oven for about 8-10 minutes or until golden brown.

Reheat refried beans following the instructions on the can.

Fill wonton wrappers with refried beans.

Add your favorite taco toppings.
-Note- If you aren't vegetarian you can replace the beans with taco meat.
Reviews
"Took almost no effort."- Jessie M.
"They're my favorite." – Alison B.
Greek Salad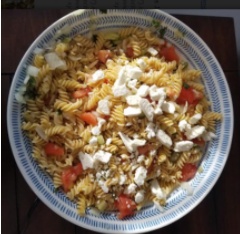 Ingredients
10 oz. rotini, cooked and chilled

2 medium tomatoes, cored, seeded and cut into 1⁄2 inch dice
1 small cucumber, cut into 1⁄2 inch dice
1 small onion, finely chopped
1 cup feta cheese, crumbled
3 tbsp. chopped fresh oregano

3 tbsp. chopped fresh parsley

3 tbsp. red wine vinegar

1⁄4 cup olive oil

Salt and freshly cracked black pepper, to taste
Directions:
Toss all ingredients in a large bowl, season with salt and pepper, and serve chilled.
Reviews
"Perfect for summer!" -Jessie M.
"Super easy! " -Ava B.
Don't these all sound ravishing? You can make these springtime delights by following these recipes. Be sure to be careful not to burn yourselves when putting stuff in the oven and frying the pasta. Happy Spring!
All Pictures taken by Jackie Mobus.
References:
Southern Living "Berry Splash." My Recipes, Mar. 2010, www.myrecipes.com/recipe/berry-splash.
Miyashiro, Lauren. "Pasta Chips." Delish, Delish, 14 Mar. 2018, www.delish.com/cooking/recipe-ideas/recipes/a51657/pasta-chips-recipe/.
Saveur. "Greek Pasta Salad." Saveur, 22 July 2014, www.saveur.com/article/Recipes/Greek-Pasta-Salad.
"Caprese Bites." Delish, Delish, 13 Mar. 2018, www.delish.com/cooking/recipe-ideas/recipes/a50120/caprese-bites-recipe/.
Chungah. "Mini Taco Salad Cups." Https://Damndelicious.net/2014/08/20/Mini-Taco-Salad-Cups/, 20 Aug. 2014, damndelicious.net/2014/08/20/miniChungah. "Mini Taco Salad Cups."