Editor's Note: We did it!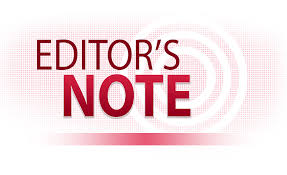 We did it.
2020 has been a rough year so far, that's for sure, but we got through it. There is a quote by an unknown person that says, "You can't always control the curveballs that life throws at you, so you have to learn how to control yourself." This applies very well to our current situation. There are people out there every day risking their lives so that we can be safe. 
These workers are the backbone of our society and without them, our current situation would be much worse. I would like to take a moment to acknowledge and appreciate all of the doctors, nurses, healthcare workers, police, firemen, teachers, pharmacists, waste management, and all other essential workers who are still working during this pandemic.
I would also like to say goodbye to the eighth-graders who will sadly be leaving FMS this year. While it is unfortunate that they won't get the normal graduation, I would like them to know that we will all miss them once they depart from Frelinghuysen. 
I know that 2020 has been rough for everyone, but there have also been good moments. Here are some things that I found to lift your spirits.
The second person in the world to ever be cured of HIV

The first in-vitro cheetah cubs born

Animal Crossing was released on Nintendo Switch

Beyoncé launched Ivy Park X Adidas

Spotify launches Daily Wellness Playlists

Celebrity concerts for a cause

The cast of The Office reunited for a fan's virtual wedding hosted by the actor who played Jim as well as being the host of SGN, John Krasinski
I hope you enjoyed reading this short piece. Have fun, stay safe, and have a great summer! 
Starla Marcelo

Senior Student Editor, Falcon Press 2019-2020