Top Summer Vacation Spots!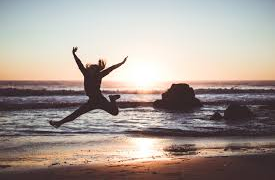 Caroline Price, Writer
May 23, 2019
With not even three weeks left of school, summer vacations are almost upon us! If your family hasn't planned a summer getaway, here is a list of 8 HOT summer vacation spots you may want to check out to put on your travel wishlist!
Looking to spend some quality time outside this summer? Well, then, Salt Lake City needs to be on your list. Surrounded by beautiful mountain views, you can venture outside and take in the Hogle Zoo or the Red Butte Garden.  If you prefer to stay indoors, there are so many historical places to check out, as Salt Lake City is home to the Church of Latter-Day Saints. For your younger siblings, check out the Clark Planetarium and Discovery Gateway Children's museum.
Las Vegas, Nevada
Why is Las Vegas is known as the brightest place on Earth? There are two reasons: there is a lot of sunshine and there are so many lights from billboards and the hotel casinos, you have a hard time knowing it's nighttime! Although, we'd have no interest in the casinos, there are fabulous restaurants, shows, and concerts as well as many shopping outlets.  Sightseeing? Be sure to snap a picture in front of the famous "Welcome to Fabulous Las Vegas Nevada" sign.
Maui, Hawaii
Maui is one of those beautiful islands where everything goes at the pace you would like it to go. Another name for Maui is "Paradise", which is kinda obvious, with the beautiful beaches and resorts. If you want to get away and enjoy the summer sun, I truly suggest coming to Maui and taking in all that it has to offer, such as ziplining, helicopter tours, boat cruises and more!
Aspen, Colorado
Aspen isn't just a winter hotspot; it's also your go-to summer vacation, for hiking, biking and riding gondolas to the top of Aspen Mountain to take in the view! Aspen is a very cultural city, with tons of art shows and parks, with live music and many activities for children. At the base of the mountain, there are plenty of activities for the whole family to enjoy.
Barcelona, Spain
Barcelona is a beautiful city, with tons of astounding art and sculptures. The architecture and sights in Barcelona are amazing and a must-see. If you have a budding interest in architecture, then you won't want to miss checking out any of the buildings designed by Antoni Gaudi whose style is evident all throughout the city. If you're a major soccer/sports fan, then visiting Camp Nou, otherwise known as FC Barcelona's home field, is a must. You may even get to see them in action, but at least you can take tours of their stadium!
London, England
Want to try and catch a glimpse of the Queen of England? Then London is the place to be! Whether you are standing in front of Buckingham Palace and watching the changing of the guard or sitting atop a double-decker bus, London has something for everyone if you are an avid sightseer. The London Eye is a GIANT Ferris wheel that provides a stunning view of London from all angles.  Big Ben is the iconic clock tower situated close to the Houses of British Parliament. Shopping is unlike you've ever experienced, be sure to check out the shops on Covent Garden and Oxford Street.
Whistler, Canada
Whistler is known for its beautiful mountains, that are perfect for skiing in the Winter and hiking in the Summer. Not only does the town of Whistler offer beautiful mountains and skiing resorts all over, but they also have hiking trails, going on a bear tour, and more! Travel Triangle states, "Whistler is the shining gem of Canada."
Amalfi Coast, Italy
Amalfi, otherwise known as the coastal gem of Italy, is located on its southern coast and is perched between the mountains and the sea. Beautiful beaches, oceanside vineyards, or hiking along the coastal paths are some of the many activities to do while you're in Amalfi. One of the most well-known hiking paths is the Path of the Gods, or the trail to Castello di Arechi, because of their background stories. The Path of the Gods was once "known" for summoning the gods, and Castello di Arechi is an old castle in Italy.  
Summer is almost here! Vacation is near! It is time to get ready for the summer fun!