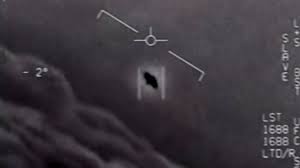 Aliens. The word always stirs up a conversation. Just the thought of creatures roaming other planets gives you shivers, but you know they aren't actually real… right? There have been over 500 UFO sightings just this year. The chance of aliens being real, well that's up to you to decide, but aliens, compared to some other creatures people believe in, aren't the craziest idea ever. Here are three times UFOS have been sighted.    
Sighting at California Launch Site
In 2003 at the Vandenberg Air Force Base, a red square about the size of a football field was spotted in the sky above before it darted away. The UFO sightings are now under investigation on Capitol Hill. The discussion causes people to think that the sightings could pose a security threat. Many people were at the base when the unidentified object flew overhead. There were also a few other sightings after sunset. Ryan Graves, a former Navy officer, said "These objects were approaching some of the security guards at rapid speeds before darting off." In 2021, a meeting was held and Robert Jacobs, a former lieutenant, said that he and his crew set up a video camera to capture video footage of the UFO's. Robert said that he had captured a video of a saucer shaped object in the sky sending down a beam of light before it flew away. 
So-Called Aliens Spotted in Louisiana
A recently uploaded video on social media went viral for showing the footage of a glowing bright green ball lighting up the skies of Gretna, Louisiana. People say it could've just been a meteor disintegrating, but others claimed that it was, indeed, a UFO. The "green fireball" as people called it, was being talked about everywhere, and the American Meteorological Society investigated the video. As the video continued to go viral, more and more people saw it. It has caught the attention of the public while American politicians were discussing secretive UFO information. From social media's standpoint, X is overlooking all the opinions and beliefs about the "green fireball". Many viewers are saying that the fireball was definitely not a meteor, but an alien.
The Belgium Wave
At the end of November 1989, the people of Belgium reported seeing a large triangle shaped object which later they came to establish as a UFO. A couple months later sightings of multiple objects were reported and confirmed by 2 military bases. Jets were sent out but didn't see anything visually, but they locked onto the targets with radar. However, the objects flew away so quickly that the scientists weren't able to capture anything. Almost 13,500 people saw the incident, making it one of the most widely observed sightings in history. The Belgian people reached out to the UK's Ministry of Defense, but during the research process, it was determined that the case wasn't dangerous, aggressive, or harmful so they stopped the investigation.
These three sightings show that the possibility of aliens being real is greater than you might think. These are only three out of thousands of sightings! The next time you see something strange or unusual, question yourself. Is it just a crazy idea or a UFO?
Works Cited
Petri, Alexandra E. "UFO Hearing in Congress Details Sighting at California Launch Site – Los Angeles Times." Los Angeles Times, 9 Aug. 2023, www.latimes.com/california/story/2023-08-04/ufo-hearing-congress-sighting-at-california-vandenberg-air-force-base.
Waldek, Stefanie. "History's Most Infamous UFO Sightings of the Modern Era." HISTORY, 8 Dec. 2020, www.history.com/news/historys-most-infamous-ufo-sightings.