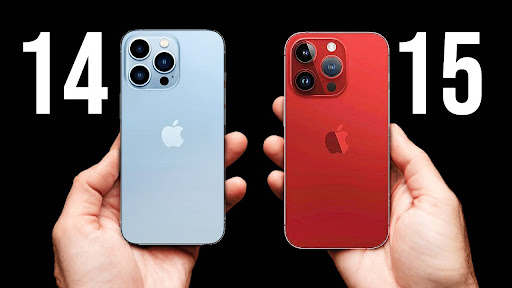 Are you curious about the disparities between the iPhone 15 and iPhone 14? Today, we'll delve into a side-by-side comparison of these two models to highlight their distinctions. The iPhone 15 and iPhone 14 diverge in various aspects, including their materials, processors, camera systems, the introduction of a new USB-C charging port, and more.
First, let's explore the materials. The iPhone 15 Pro flaunts a titanium build, departing from the stainless steel used in the iPhone 14. Meanwhile, the standard iPhone 15 retains the same aluminum construction as the iPhone 14. In terms of color, the iPhone 15 Pro shifts from deep purple to natural titanium and from gold to blue titanium when compared to the iPhone 14 Pro.
Now, let's move on to the chips. The iPhone 15 Pro is equipped with the cutting-edge A17 Pro chip, while the iPhone 14 Pro shares the A16 Bionic chip with the base iPhone 15. It's important to note that the iPhone 14 features the A15 Bionic chip, which is absent in the new iPhone lineup.
In the realm of cameras, the iPhone 15 represents a significant departure from its predecessor, upgrading from 12MP cameras to 48MP sensors. The iPhone 15 Pro, on the other hand, adds a 24MP option while retaining the 48MP option. Both models introduce next-generation portrait features.
A noteworthy addition is the transition to USB-C charging. Apple has shifted away from the Lightning port to comply with EU regulations. The iPhone 15 Pro supports USB-C 3, enabling 20x faster data transfers. However, the base iPhone model does not feature this capability.
In conclusion, the iPhone 15 and iPhone 14 exhibit numerous differences, including their materials, chipsets, camera systems, and the adoption of a USB-C charging port. These distinctions set them apart in the ever-evolving world of smartphones. If you're interested in one of these options, go check them out at the Apple Store for a closer look!
Works Cited 
Apple. "iPhone – Compare Models." Apple, www.apple.com/iphone/compare/?modelList=iphone-15-pro,iphone-15,iphone-14-pro.