"I scream," for Ice Cream! Morristown's Top Ice Cream Places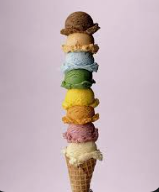 It's a hot summer day in Morristown New Jersey. Sweat drips from your forehead like rain. The sun feels like it's inches from your face. What do you do? Well if you're anything like us, you would say go eat ice cream! You might even scream for it. So when you look up ice cream places, you get overwhelmed with the number of choices! But never fear, the Falcon Press is here! We've gone out and hand-selected the top ice cream places for you to try from. If you are interested, read on!
3rd Place: Taro Frozen Yogurt
     Taro is one of the most popular ice cream places Among Us (hahaha…) for obvious reasons! Taro is one of the most diverse ice cream places in terms of options and flavors. Along with that, it's located in a convenient spot.  They have more than just ice cream there. They have boba (or bubble tea if you're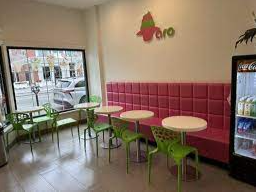 uncreative), crepes, smoothies, ice cream rolls, and milkshakes, yet not many dairy-free options. Taro has the most total topping options (36 to be exact). The staff is very friendly and helpful.  The color scheme of green and pink are consistent and create a fun atmosphere, the music adding to that. The colors are dominant in the wallpaper, decorations, seating, and even utensils!  In terms of their ice cream, after sampling a few flavors, including cookies and cream, yellow cake batter, and brownie heaven ice cream rolls, we have come to the conclusion that Taro is an overall 8.5/10. If you like Taro any more or less than we do, that's ok too! Everyone is entitled to their own opinion. They have 11 ice roll flavors and 10 regular ice cream flavors. The price is based on the weight of your ice cream, so you know you're getting a fair amount for your money, and costs on average 50 cents per ounce. If you're looking for a good, convenient place to go get some frozen treats, then Taro is the place for you!
2nd Place: Stack Creamery
     Stack is one of the newest additions to the ice cream stores of Morristown, but don't let that fool you! Stack offers a variety of ice cream flavors. However, their most popular is their ice cream sandwiches which are served on warm, homemade cookies that smell amazing! The atmosphere is very welcoming, and immediately you are h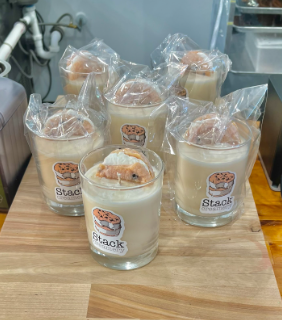 it with a delicious cookie smell that is sure to remind you of home and family. They offer 12 ice cream flavors and 12 cookies that you can mix and match to create your own custom sandwich! They also offer toppings that they will roll the sides of your sandwich in. Some of these toppings include rainbow sprinkles, oreo pieces, brownie crumbs, chopped MnM's, etc. for only 50 cents per topping. They don't just offer ice cream sandwiches. They offer 1-3 scoops of ice cream, a pint of ice cream, vegan pints, milkshakes/floats, cookie sandwiches, donut sandwiches, 1-24 cookies, and ice cream cake(s). The prices are very fair, and a great deal for what you're getting, as they pack each sandwich with a good deal of ice cream. Not only do they offer this, but they also offer beautiful cookies and milk-scented candles (see image to the right). They make perfect gifts for all your cookie-loving friends! Overall, we rate Stack Creamery a 9/10.
First Place: Guerriero's Gelato
     Although the name is hard to spell (and pronounce), Guerriero's is by far the best ice cream place in town. Much like Stack, it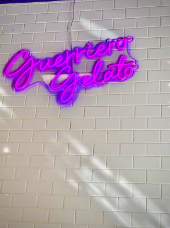 is one of the newer additions to Morristown's ice cream places, but in our opinion, Guerriero's outranks them all. Between their large selection of flavors and toppings, fun seating, music, fair prices, and dairy-free options, Guerriero's comes in at a 9.5/10. They had the most enticing atmosphere with a variety of seating options, popular music, and even a large mural of their logo painted on the wall. They have 50 different ice cream flavors, 10 gelato flavors, and 13 dairy-free choices that include Italian ice, sorbet, and even plant-based gelato! In 2019, they won the award for best gelato! In addition to their vast ice cream choices, they also have 18 toppings to choose from to pair with any flavor of your choice ($1 extra per topping). Their staff is amazing, and super friendly to make sure you feel welcome, even offering samples before you choose! Guerriero's makes their own homemade ice cream, which has small but soft chunks in their ice cream. They have a vibrant and consistent purple color scheme. Guerriero's is a bit on the pricey side, charging $6.50 for only a small, but if you ask us, it's totally worth it!
Although there are plenty of options for ice cream in Morristown, these three are definitely the cream of the crop! They offer the coolest atmosphere for hanging out with friends or family and sharing a tasty treat! If you went to one of these places and want to let us know what you think, fill out this form here! Ice Cream of Morristown Review