Billie Eilish: She's Not Just a Worldwide Popstar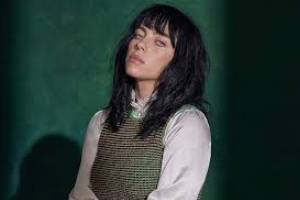 A lot of people consider Billie Eilish to be a "worldwide popstar". People are right about that but there is something else that she does other than make such great music. She is also a climate activist. She helps to find solutions for the negative environmental effects. Read on to find out how Billie Eilish is helpful for our earth. 
How Billie Helps
     Billie Eilish has done a lot during her world tour to help with environmental sustainability. She encourages people to try vegan recipes and she sells reusable water bottles at her concerts to prevent the usage of plastic. She also makes her shoes out of environmentally friendly material. Now I know what you're asking, "What do you mean by that?" Shoes are usually made out of rubber and other things that are harmful to the planet. Billie's shoes are made out of recycled and vegan materials. That is a pretty interesting way to save the Earth, isn't it? 
Who Billie Works With
     One of Vogue's recent videos shows Billie Eilish working with eight other climate activists. Billie talks about how climate change can impact our lives and the future through her song  "All the Good Girls Go to Hell", which shows how we should start protecting our planet before there isn't one. Not only this, but she also works with her Mom, Maggie Baird to creatively educate others about the negative effects of climate change as well as how to make Earth-friendly products. 
Billie's Hopes For Her Work
     Billie hopes that the Earth will become "less sick" and that more people will realize what is happening to our Earth. She also hopes that more people will contribute to helping the Earth grow better. That's why she makes all of her clothing products out of recycled materials and stops the use of other materials that are bad for the planet. 
     Billie Eilish may be an international popstar but her climate sustainability work proves her to be more than that. Next time you think about the climate, think of Billie Eilish and help out the world too. 
Works Cited
"☕️." YouTube, 10 August 2022, https://www.youtube.com/watch?v=NvdCXCmonE8&t=100s. Accessed 26 January 2023.
Kulkarni, Eesha. "Nike x Billie Eilish recreate the Air Force 1 High in recycled materials." Lifestyle Asia Hong Kong, 13 April 2022, https://www.lifestyleasia.com/ind/style/fashion/billie-eilish-and-nike-collaborate-to-reimagine-the-air-force-1-high/. Accessed 26 January 2023.
Miller, Chance. "Apple Music exclusively streaming Billie Eilish's full O2 Arena concert, here's how to watch." 9to5Mac, 30 September 2022, https://9to5mac.com/2022/09/30/apple-music-billie-eilish-live/. Accessed 31 January 2023.