Starbucks: A Great Coffee Shop Near You!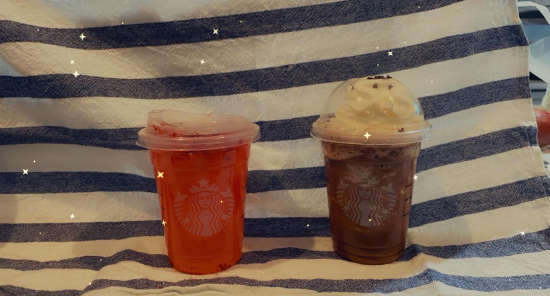 Do you like Starbucks? A lot of you reading this have probably been there to get a treat. Starbucks is a cafe with a pretty large menu. There are loads of drinks and little bakery items to choose from. Did you know that Starbucks first opened on March 30, 1971 in Seattle, Washington and the original Starbucks is still open on Pike Place road!
The two drinks I will be reviewing are the Strawberry Acai Starbucks refresher and the Peppermint Mocha Blended Frappuccino.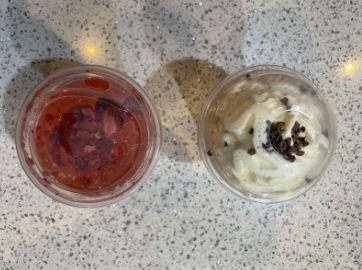 The Peppermint Mocha frappuccino is made with coffee, mocha sauce, peppermint flavored syrup, milk and ice. Then it is topped with whipped cream and dark chocolate swirls. It is $5.45 for a tall which is the size I got because frappuccinos can be stomach-filling, hence why it is 300 calories. It tastes like the holiday season in a cup! I definitely recommend getting it during this holiday season! I would rate this a 8/10.
The second drink I will be reviewing is the Strawberry Acai refresher and it is $4.75 for a tall and 110 calories. This drink is made with ice, strawberry acai base, and freeze dried strawberries. This drink is great for  the summertime because it is a nice cold, sweet, and refreshing drink, making it great for a hot summer day, but it's still a great drink for any time of the year! I really love this drink so I am rating it 8.5/10!
In all, I love both of these drinks and I really recommend them both! I will definitely be getting these again very soon!
Works Cited
Starbucks – Google Maps, Google Maps, https://www.google.com/maps/place/Starbucks/@47.6100851,-122.3447928,17z/data=!4m14!1m8!3m7!1s0x54906ab2c538c70b:0x11ebfd9ae22719cf!2sStarbucks!8m2!3d47.6100851!4d-122.3426041!14m1!1BCgIgARICGAI!3m4!1s0x54906ab2c538c70b:0x11ebfd9ae22719cf!8m2!3d47.6100851! Accessed 12 9 2022.
"Starbucks Coffee." Starbucks Coffee, Starbucks, 2022, https://www.starbucks.com/. Accessed 9 12 2022.