Procreate: Is It Worth Your $10?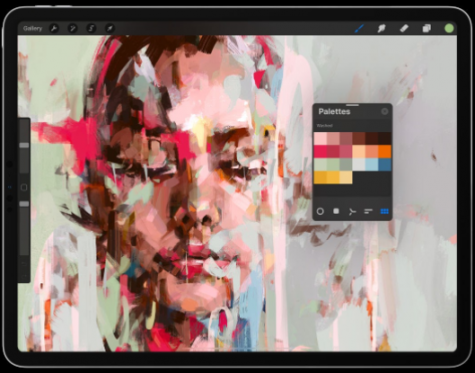 Procreate is one of the most well-known drawing apps. However, it's far from free. This app costs $10, but there is nothing extra that you have to buy. Once you buy it, you have the whole package. It is important to note that Procreate is only available on the App Store, and it can only be used with any iPad that runs iPadOS 13.2 or later.
Clearly, from the photo below, Procreate has one of the most visually appealing interfaces for an app that we've ever seen. If you don't want the bars that are on the top and the left, you can simply tap the screen with 4 fingers, and voilà! All you can see is your masterpiece. If you are working outside, or somewhere with bright lights, and you can't see the controls, just change dark mode to light mode! On the homescreen, everything is in a grid view, so you can see all of your work. Just like putting apps in a folder on your iPhone, simply hold down one of your pieces and drag it into another to make a folder. If you own an Apple Pencil or other bluetooth stylus, you are able to connect it to the app. By doing this, it makes it so the lighter you press on the screen, the lighter the line you are drawing is. The same concept applies if you press harder on the screen. The harder you press, the darker the line is. That, to us, is quality.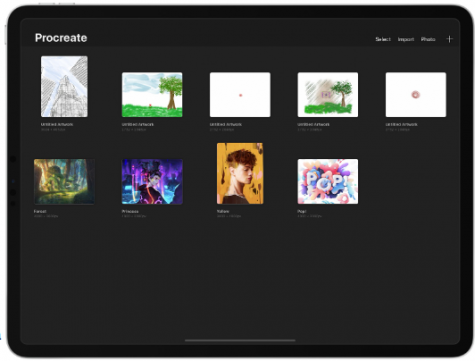 Now, the question is, is it easy to work? Can any beginner become a "pro" just like the title suggests? As a beginner, it may take a few YouTube videos and suggestions to become a master because there isn't an official tutorial on how to use the app. If you are going for a certain image or style it can be tricky, especially when you forget a layer. Layers are different levels of your art to make it easier to make your masterpiece. There also is an option to animate your art, which is pretty cool. However, this is really hard and it can take a lot of time. But if you look on the fun side, you can

make pigs fly, commercials for your favorite brand, or just have a wheel turn. It's all up to you and your imagination. Another plus to drawing digitally with Procreate is that you don't waste money and paper. So it is better for the environment. This app is a true example of the saying, "practice makes perfect".
When using the app you can still draw with your finger, but it feels a lot better to get an Apple Pencil or a different stylus. The pictures above show the Apple Pencil (1st Generation), Apple Pencil (2nd Generation), Wacom Bamboo Fineline, and the Adonit Note+. If your iPad is too old for an Apple Pencil (click the link to see Apple Pencil compatibility), you can get a stylus instead. If you do decide to get Procreate after you're done reading this article, we would suggest looking into getting an Apple Pencil or a stylus. A useful feature that we use a lot is the color palette and the color wheel. The color wheel has every color you want or need for your masterpieces. But what's even cooler is the color palette which takes the colors that you used in your drawing, or even a picture, and it allows you to use those exact colors on a different part of the same drawing or another drawing entirely.
In conclusion, Procreate is fun, creative, and a great learning experience. Admittedly, it isn't the easiest app to maneuver around and it isn't the cheapest, but you'll still have a great time. You'll broaden your horizons more than just paper and a pencil. Overall, Procreate has more ups than downs and more highs than lows. So, in the end, we'd recommend the app but only if you'd put thought into the fact that you will continue to use it and not just waste your $10.