Top 5 Baking Recipes for Your Sweet Tooth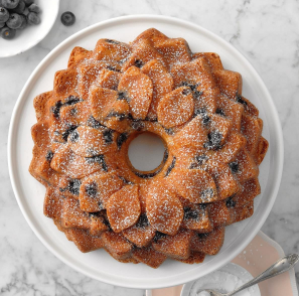 Baking has been something that has been in our history since 2600 B.C, and according to  Britannica.com, the first evidence of baking occurred when the Egyptians took wild grass grains, soaked them in water, and mixed everything together, mashing it into a kind of broth-like paste. This became the first-ever baking food, the bread which was created out of a very special ingredient called yeast. Since then, baking has been able to expand in so many ways such as the creation of our favorite cakes, delicious cookies, cupcakes, and more. 
Presently, during the pandemic, we are all stuck at home with time to spare, which means we have the opportunity to try new skills and activities, such as working out, reading, sports watching, family fun time, and especially, baking, etc. In this article I will give 5 baking recipes I've tried. These are foods that are fun and tasty for you to create right in your home. So let's get started.
Prep Time:5 minutes, Cook Time:45 minutes
This first recipe can be something that we have all tried but have not known how to actually make; and finally: here is a recipe that gives you super fudgy, moist, chocolate-y brownies, with crispy edges and crackly tops that are easy to make. According to the website I got it from, it calls for basic pantry ingredients, and it's hardly more difficult than using a mix. As for the brownies, they're true perfection – glossy, fudgy, and filled with rich chocolate flavor. So trust me, you're going to want to make them ASAP! Therefore, here are the ingredients and instructions for the recipe.
Ingredients
T
otal Time
45 minutes
Prep Time
15 minutes
Cook Time
30 minutes
For 9 servings
8 oz good-quality chocolate (semi-sweet)
12 tablespoons butter, melted
2 teaspoons vanilla extract
Preparation
Preheat the oven to 350°F (180°C). Line an 8-inch (20 cm) square baking dish with parchment paper.
Chop the chocolate into chunks. Melt half of the chocolate in the microwave in 20-second intervals, saving the other half for later.
In a large bowl, mix the butter and sugar with an electric hand mixer, then beat in the eggs and vanilla for 1-2 minutes, until the mixture becomes fluffy and light in color.
Whisk in the melted chocolate (make sure it's not too hot or else the eggs will cook), then sift in the flour, cocoa powder, and salt. Fold to incorporate the dry ingredients, being careful not to overmix as this will cause the brownies to be more cake-like in texture.
Fold in the chocolate chunks, then transfer the batter to the prepared baking dish.

Bake for 20-25 minutes, depending on how fudgy you like your brownies, then cool completely.

Slice, then serve with a nice cold glass of milk!

———————————————————————————————————————




Apple Cinnamon Bundt Cake (Martha Stewart)                                                                                     

Cakes have been one of the most popular baking foods in our history. We use them for multiple special events such as weddings, birthdays, festivals, bat mitzvahs, etc.  They have always been a treat that has tasted sweet and delicious, which is exactly what the Apple Cinnamon Bundt cake provides you with. This cake has a few steps that can be slightly complicated, but with help can easily be accomplished, which means this can be a fun family baking experience. The cake has a perfectly soft feel with the flavor of one the most amazing spices, cinnamon all over, and the lovely, sweet crunchiness of apples, plus a hint of some wonderful icing to go with it.

 Prep:20 mins      Total:2 hrs        

Ingredients

2 1/2 cups all-purpose flour

1 tablespoon ground cinnamon

2 teaspoons baking powder

1 cup (2 sticks) unsalted butter, melted

1 1/2 cups packed light-brown sugar

6 Granny Smith apples, peeled, cored, and sliced 1/4 inch thick

1 cup confectioners' sugar

Directions

Step 1


Preheat oven to 350 degrees. Make the cake: In a medium bowl, whisk together flour, cinnamon, baking powder, salt, and baking soda.

Step 2


In a large bowl, combine butter, brown sugar, and eggs. Whisk until smooth. Gradually whisk in dry ingredients just until combined (do not overmix). Using a rubber spatula, fold in apples. Spoon batter into a 12-cup nonstick Bundt pan, and smooth top. Bake until a tester inserted in the cake comes out clean, 50 to 60 minutes. Cool in pan on rack 15 minutes; invert onto rack to cool completely.

Step 3


Make the glaze: Whisk together confectioners' sugar and enough water to form a thick yet pourable glaze. Set rack with cake over a piece of wax paper (for easy cleanup); drizzle cake with glaze, and let set before serving.

Tips/Notes

Granny Smith apples hold their shape well during baking and provide a sweet-tart taste. If you like, coat your Bundt pan with cooking spray just before filling it with the batter to ensure that the cake will release easily from the pan.

———————————————————————————————————————————

3: Walnut Thumbprint Shortbread Round Cookie, With Tart Raspberry and Walnuts

My great-grandmother, born in 1892, has created cookies in the family for a long time. As my aunts and uncles got older, one of them decided to try and carry on the tradition of making these cookies, which her grandmother had made countless amounts of times when she was younger. My Aunt Diane, starting in the 1970s, wanted to have an official party that celebrated the cookies, so her mother helped her come up with a name called Cookie Tails. 

Cookie recipes have been around for 3 centuries so it was a big tradition in the family which is why it was so important to do an event for them. Starting in 1985, my Aunt hosted an event called Cookie Tails, and at first, it was only 20 people until she bought the whole family plus family friends and they all ate cookies from night time till sunshine. As the years went on, I finally asked my aunt what cookie out of the 20 different cookies that she has created was the party favorite since the start. She gave me the answer being the wonderful Walnut Thumbprint Shortbread Round Cookie, With Tart Raspberry And Walnuts. This cookie was one of my favorites of all the time because there was brown sugar and butter in the cookie dough, which gives a rich falour, tha can't compare to any other cookie. The addition of tart sweet raspberry jam, with a hint of ground walnuts, and a very flaky round shortbread cookie with a hint of additional brown sugar in it allows you to just make a smile when eating this delicious cookie.

Ingredients:  

2 dozen cookies in total; Bake at 350 degrees

Prepare ¾ cup finely chopped walnuts, set aside, then mix together thoroughly: 

     Sift together and stir in:

Instructions:

Roll into a ball size of a small walnut. Beat 1 egg white lightly. Dip dough balls in the egg white and roll in chopped nuts. Bake for 5 minutes, then remove and press your thumb or spoon gently in the center to create the thumbprint. Return to the oven and bake for 8 minutes more. Let cookies cool. Place about 1 tsp raspberry jam in the center of the thumbprint then enjoy.

———————————————————————————————————————–

Gingersnap Crumb Pear Pie (Taste of Home)

If you love to crumble pies from fresh fruit, this recipe might just be right for you.  Tasting of sweet delicious pear, ginger, and caramel, combined with either oats or gingersnaps, and served with vanilla ice cream, gives it a new twist. This is a recipe that is fun to bake and easy to make – a delicious food for you.

Total Time


Prep: 35 min. + chilling Bake: 1 hour + cooling

 Ingredients

Dough for single-crust pie

1 cup crushed gingersnap cookies (about 16 cookies)

1/4 cup all-purpose flour

1/4 cup packed brown sugar

1/2 cup cold butter, cubed

1/3 cup all-purpose flour
1/2 teaspoon ground ginger
2-1/2 pounds ripe pears (about 4 medium), peeled and thinly sliced
1 teaspoon vanilla extract
Hot caramel ice cream topping, optional
Directions
On a lightly floured surface, roll dough to a 1/8-in.-thick circle; transfer to a 9-in. pie plate. Trim crust to 1/2 in. beyond the rim of plate; flute edge. Refrigerate for 30 minutes. Preheat oven to 400°.
Line unpricked crust with a double thickness of foil. Fill with pie weights, dried beans, or uncooked rice. Bake on a lower oven rack until the edge is light golden brown, 15-20 minutes. Remove foil and weights; bake until bottom is golden brown, 3-6 minutes longer. Cool on a wire rack. Reduce oven setting to 350°.
For the topping, in a food processor, combine crushed cookies, flour, brown sugar, and salt. Add butter; pulse until crumbly.
For the filling, in a large bowl, mix sugar, flour, ginger, and salt. Add pears, lemon juice, and vanilla; toss gently to combine. Transfer to crust; cover with topping.
Place pie on a

baking sheet

; bake until topping is lightly browned and pears are tender, 60-70 minutes. Cover pie loosely with foil during the last 15 minutes if needed to prevent overbrowning. Remove foil. Cool on a wire rack at least 1 hour before serving. If desired, drizzle with caramel topping.
Editor's Note
Dough for single-crust pie: Combine 1-1/4 cups all-purpose flour and 1/4 tsp. salt; cut in 1/2 cup cold butter until crumbly. Gradually add 3-5 Tbsp. ice water, tossing with a fork until dough holds together when pressed. Shape into a disk; wrap and refrigerate for 1 hour.
————————————————————————————–
5: Blueberries Cream and Coffee Cake (Taste of Home)
This blueberry coffee cake is my go-to recipe for all of our holiday get-togethers because it's perfect for breakfast or dessert. It's easy to make, and it's one of the most delicious coffee cakes you'll ever make. It is a lovely Fresh Blueberry cake with a hint of cinnamon and pecans if desired.

Total Time


Prep: 20 min. Bake: 55 min. + cooling


Makes


12 servings

Ingredients

1 cup butter, softened

2 cups sugar

2 large eggs, room temperature

1 teaspoon vanilla extract

1-3/4 cups all-purpose flour

1 teaspoon baking powder

1/4 teaspoon salt

1 cup sour cream

1 cup fresh or frozen unsweetened blueberries

1/2 cup packed brown sugar

1/2 cup chopped pecans, optional

1 teaspoon ground cinnamon

1 tablespoon confectioners' sugar

 Directions

In a large bowl, cream butter and sugar until light and fluffy, 5-7 minutes. Add eggs, 1 at a time, beating well after each addition. Beat in vanilla. Combine the flour, baking powder, and salt; add to the creamed mixture alternately with sour cream, beating well after each addition. Fold in blueberries.

Spoon half of the batter into a greased and floured 10-in. fluted tube pan. In a small bowl, combine the brown sugar, pecans if desired, and cinnamon. Sprinkle half over the batter. Top with remaining batter; sprinkle with remaining brown sugar mixture. Cut through batter with a knife to swirl the brown sugar mixture.

Bake at 350° until a toothpick inserted near the center comes out clean, 55-60 minutes. Cool for 10 minutes before removing from

pan to a wire rack to cool completely. Just before serving, dust with confectioners' sugar.

Works Cited

"Apple-Cinnamon Bundt Cake Recipe." Martha Stewart, www.marthastewart.com/313216/apple-cinnamon-bundt-cake.

Stanko, Caroline. "100 Baking Recipes We Snuck from Grandma's Recipe Box." Taste of Home, Taste of Home, 1 Feb. 2021, www.tasteofhome.com/collection/grandma-s-best-baking-recipes/.

Taste of Home. "Blueberries and Cream Coffee Cake." Taste of Home, www.tasteofhome.com/recipes/blueberries-and-cream-coffee-cake/.

Taste of Home. "Gingersnap Crumb Pear Pie." Taste of Home, www.tasteofhome.com/recipes/gingersnap-crumb-pear-pie/.

Zhou, Alvin. "The Best Fudgy Brownies Recipe by Tasty." Tasty.co, Tasty, 29 June 2017, tasty.co/recipe/the-best-fudgy-brownies.