Sports: Staging a Comeback After COVID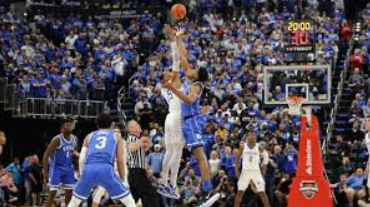 From the start, COVID-19 has been a massive letdown for the welfare of the human race, economy, air travel, and especially, sports. With all winter sports canceled at Frelinghuysen and most other New Jersey Schools, middle schoolers will need to get their fill of sports by watching them at the collegiate and professional levels on TV. 
Throughout 2020, things have been more chaotic than in years, sports especially. Here is a guide to the evolving protocols for sports and how you can enjoy viewing them this winter. 
How Sports are Surviving
The sports in full bloom at the start of COVID were basketball and hockey. When the test results for Rudy Gobert on the Utah Jazz in the NBA came back positive, the sports world was extremely confused and rattled. The NBA season came to a standstill on March 11, and just a day later, NCAA basketball was canceled. The NHL canceled its league as well, not wanting to risk the lives of their players and fans. Within two days, tens of millions of sports fans were left in shock. Nobody ever saw it coming, and it was the biggest challenge that sports leagues have ever had to face. The Tokyo Olympics were also postponed for a year, to make things worse
Despite all of this chaos, Major League Baseball was able to successfully start their season; even if a few months delayed. They even hosted a World Series with limited fans in attendance (the LA Dodgers won). The NFL is still in full swing, although with some COVID-19 outbreaks. College football has been a success as well, with Alabama taking the #1 seed going into the playoffs along with Notre Dame, Clemson, and Ohio State. Be sure to look out for the big playoff games in early January. 
Although they were marked with COVID cases and are played indoors, the NBA and NCAA basketball are now back as well. This brings us to this year's March Madness (yes, it is happening!). College players were crushed when the basketball tournament was canceled, so this year should be more exciting than ever. Start your brackets now! 
But What About School Sports?
Although professional sports are now thriving again, the same cannot be said for middle and elementary school athletics. It is easy for professional sports with huge stadiums and lots of space to thrive, because as long as there are no fans in attendance, there is not a huge risk of getting COVID. However, with small, poorly ventilated youth stadiums, the risk is increasingly higher. While Morristown High School had a fairly successful fall sports season, the same cannot be said for Frelinghuysen. What will spring bring? To all you baseball, track, and lacrosse players, be patient. The vaccine is being shipped as we speak, but we kids are last on the list to receive it. Hopefully, spring sports will be in full swing, and sports will be saved.
Works Cited
"Timeline of How COVID-19 Shut down the Sports World." Stacker, stacker.com/stories/4140/timeline-how-covid-19-shut-down-sports-world.