Quarantine Breakfast Baking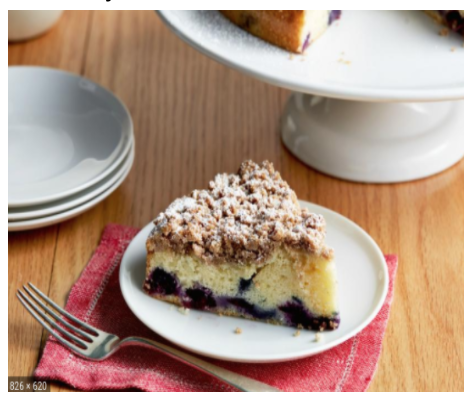 Do you like to bake? Baking has become a popular pastime during quarantine. These two recipes are my personal favorites as they are a great way to start off the day! Making homemade breakfasts are a great way to pass the time, and they have delicious outcomes. Without further ado check out these scrumptious recipes, that are great for people with all levels of experience. 
---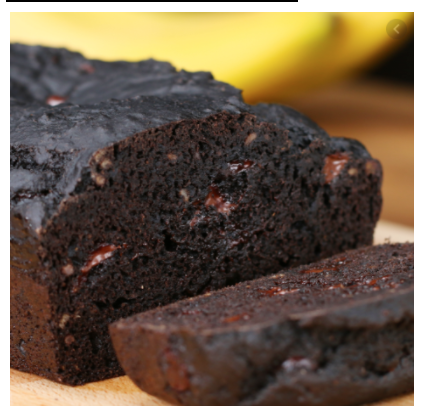 Chocolate Banana Bread 
Ingredients:                                     
3 ripe bananas 
2 eggs 
½ cup greek yogurt 3%*
⅓ cup honey 
1 teaspoon vanilla extract*
1 teaspoon baking soda 
1 cup whole wheat flour
½ cup dark cocoa powder*
½ cup chocolate chips 
Optional: 
½-1 teaspoon of cinnamon 
2 tablespoons of peanut butter 
1-3 tablespoons of chopped walnuts 
Supplies: 
9*5 inch bread pan 
Medium size bowl 
Mixing spoon 
Instructions: 
Preheat the oven to 350 degrees fahrenheit. Take your bowl and mash the bananas to preferred consistency (recommended consistency is smooth). Mix in all of the wet ingredients and baking soda. 

Fold in your dry ingredients, and then fold in the chocolate chips once mixed. Pour your batter into the pan and place in the oven for 40-60 minutes depending on your oven's heat while checking with a toothpick until it comes out clean every 10 minutes. 

Be careful you are not inserting the toothpick into a chocolate chip or it will always come out raw. Take out and slice warm or seal in an airtight container/cover with tinfoil to store, does not need to be refrigerated if kept out for a couple of days.
Tips / suggestions: 
For the 3% greek yogurt, regular or any other kind of greek yogurt should be fine 

If you don't have vanilla extract you can follow the recipe just without it, and it should be fine but it is strongly recommended for a better taste

Regular cocoa powder is just fine, or as a substitute melted chocolate that equals the same amount will work 
---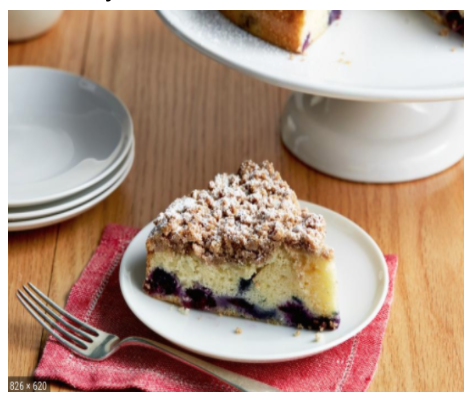 Blueberry Crumb Cake 
Ingredients:
6 tablespoons unsalted butter
¾ cup granulated sugar
2 eggs room temperature 
1 teaspoon vanilla extract 
½ teaspoon grated lemon zest*
⅔ cup sourcream* 
1 ¼ cups flour (all purpose) 
1 teaspoon baking powder 
¼ teaspoon baking soda
½ teaspoon kosher salt*
1 cup blueberries (can be frozen)
————————————————
¼ cup granulated sugar 
⅓ cup light brown sugar* 
1 teaspoon ground cinnamon 
⅛ teaspoon ground nutmeg 
1 stick unsalted butter melted 
1 ⅓ cups all purpose flour 
Confectioners sugar 
Supplies: 
Small bowl 
Medium bowl 
Big bowl 
Mixer* 
9 inch round baking pan *
Instructions:
Preheat the oven to 350 degrees fahrenheit, butter the pan and then coat with a layer of flour, make sure to dump out all excess flour but the amount that sticks. 

Combine the sugar, brown sugar, cinnamon, nutmeg, butter and flour in your small bowl mixing until combined, put to the side. 

In your big bowl cream the butter and sugar until light and fluffy, add the eggs in and then the vanilla, lemon zest and sourcream.

In the medium bowl combine the dry ingredients (flour, baking powder, baking soda, and salt), then mix. Slowly mix the ingredients in the medium bowl into the wet ingredients in the big bowl (combine wet and dry). Stir in blueberries. 

Place your batter into the pan, and then crumble your topping in the small bowl over it, making a thick layer. Bake for 40 to 50 minutes*, until a toothpick comes out clean. 

Let it cool, and if desired sift a thin layer of confectioners sugar on top, slice, then serve and enjoy!
Tips/suggestions: 
If you don't have lemon zest you can replace it with 1 teaspoon of lemon juice 

As a substitute for sour cream greek yogurt can be used

Regular salt works just fine, kosher salt is not needed only if you do happen to have it 

Medium or even dark brown sugar will work as well but try to use the lightest kind available 

Instead of a mixer you can use a whisk, or fork but make sure to mix well and for a while instead of where the mixer is required

 For the 9 inch baking pan, a square one could be used, or it could be made in two smaller pans, the pan size does not matter as long as you do the math so you can divide the batter the right way 

The baking time can vary, and may take over 50 minutes depending on the heat of your oven but be sure to check it to be sure 

If the sides are browned and cooked but not the middle you can cover with tinfoil and cook for the remaining time