Movie review: Blinded by the light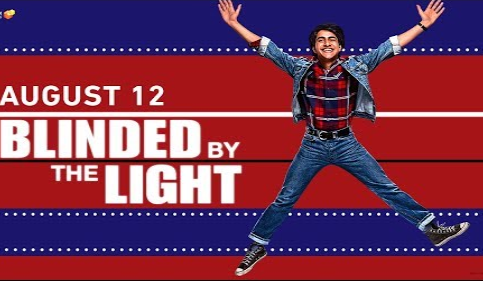 Are you into a little romance, music, friendship, comedy, and a lot of Springstein? Then Blinded by the Light is the movie for you.
Blinded by the Light is a movie based on a true story about a Pakistani teenager named Javed who is coming of age in Luton, England in 1987.  Through words, poetry, and discovering the music of Bruce Springsteen, Javed navigates relationships with his friends, girls, and family, but is mostly determined and destined to escape his small town, his controlling father, and to pursue his own dreams as a writer.  "Make loads of money. Kiss a girl. Get out of this dump," is what he says to himself while he is going through hard times.
Heartwarming, funny, and  reimagined through Springsteen's lyrics and song, the movie focuses on this struggling teen's dreams and how the music he so loves, inspires him and helps him overcome the obstacles he encounters. The background story and underlying message of racism and political climate in small town England during this time is also relevant to our current state. 
If you want to watch a feel-good movie, sing a few too many Springsteen songs along the way, and escape, this movie helps us realize that we should all try and do our best to get along and help each other.  Springsteen and the unifying power of music is transformative and the movie Blinded by the light does the same thing!