Treats for Classic Video Gamers
Love classic games like Super Mario Galaxy or the Zelda series? Or just enjoy baking recipes with unique decorating ideas? If so, then you'll love the recipes below. In this article, I'll show you two different recipes from Rosanna Pansino's book, The Nerdy Nummies Cookbook Sweet Treats for the Geek in All of Us.
Galaxy Cupcakes
Difficulty: 2 out of 5 stars (intermediate)  ⭐⭐ ✮✮✮
This cool cupcake will let you explore your dreams and your taste buds, too. Astronomy and science fans will love this cupcake because the top looks like the night sky.
Ingredients and Tools:
-Rich chocolate cake batter
-3 tubs (16 oz. each) buttercream
-Food coloring gels: electric pink, electric purple, regal purple, royal blue, black
-Light blue sanding sugar
-Edible silver stars
-Muffin tins
-Black cupcake liners
-6 decorating bags
-#4B decorating tip
Instructions:
Preheat the oven to 350 degrees Fahrenheit.

Put 24 cupcake liners into 24 cupcake cavities and fill with the batter.

Cook for 18-20 minutes.

Divide the frosting between 5 bowls and tint each bowl with one of the food dyes.

Put each of the bowls of frosting in 5 of the 6 decorating bags. Then, put the 5 bags in a larger decorating bag and put a #4B tip on the larger bag.

Finally, squeeze the bag, so that you can frost the top of the cupcake with a blend of each color, and add the sanding sugar and stars.
Review
I personally liked the Galaxy Cupcakes because they were colorful and had a nice chocolate flavor. This was a unique cupcake because it was moist and easy to make! The cupcake smelled delicious and looked like you were taking a bite out of space. The cupcakes were really fun to make and will be the cornerstone of my next dessert party.
And guess what?  I'm not the only one that likes these cupcakes. My Dad said "These Galaxy Cupcakes are out of this world! I love the chocolate flavor!"
Rupee Hard Candies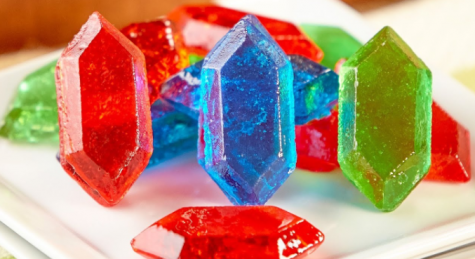 Difficulty 4 out of 5 stars (really hard) ⭐⭐⭐⭐✮
Do do do doooo! Zelda fans would love these! This recipe looks so fun and is more of a challenge because it uses different aspects of baking, such as mixing, boiling, and cooling your dessert.
Boiling this candy takes about 30 minutes and makes quite a mess. Clean-up Tip: Use boiling water to dilute the hard candy after completing the recipe.
Ingredients and Tools:
-6 cups sugar
-1 ½ cups water
-2 ¼ cups light corn syrup
-Food coloring: leaf green, red and sky blue
-½ teaspoon flavoring: pineapple, strawberry, and cotton candy
-Candy thermometer
-Pyrex measuring cups
-Gem mold (Made from silicone)
Steps:
In a large saucepan, combine 2 cups of sugar, ½ cup of water, ¾ cups of light corn syrup, and any of the food coloring gels.

Cook until sugar is dissolved. Use candy thermometer until it is 275 degrees fahrenheit.

Mix in ½ teaspoon of corresponding flavor. (red=strawberry, blue=cotton candy, green=pineapple)

Pour the mixture into a gem mold ⅔ of the way full in each cavity and let it cool for 45-60 minutes. Repeat the process for the other colors.
Review:
I thought the hard candies were good.  I used a peppermint flavor which had a unique taste similar to a candy cane at Christmas time. They had awesome flavor, but stuck to my teeth. It was more like a gummy than a hard candy. Overall, I thought the recipe was more fun to make than the gems were to eat. I liked making this recipe because it reminded me of a science experiment.
My Dad thought that they were sticky but had good flavor overall.
My brother thought it was too sticky and the flavor was too strong.
Final Thoughts:
I liked the cupcake recipe better than the hard candy. The cupcakes had a nice consistency and didn't stick to my teeth. Either recipe is worth trying out if you are a fan of baking or a fan of the classic video games. I hope you enjoyed this review, and check out Pansino's YouTube channel for more recipes!
References:
Pansino, Rosanna. The Nerdy Nummies Cookbook Sweet Treats for the Geek in All of Us. Atria, 2015.