FMS Snack Stand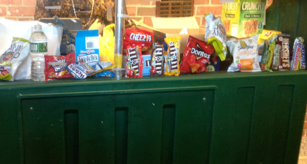 Hang on for a minute...we're trying to find some more stories you might like.
In the mood for something to nibble on after your sport or club? Well then you're lucky the Frelinghuysen After School Snack Stand opened for the first time this year! Calm your growling hunger with a little something to tide you off until dinner.
The Snack Stand will open it's doors at 3:45pm. So on your way out of the building, don't forget to grab something to save for later, or eat while waiting for the bus. Chocolate is sweet and sticky. Chips and crackers are salty. What about a drink? Have no fear, FMS Snack Stand is here! If you forgot to fill up your water bottle, don't worry. The FMS Snack Stand also has juice and other drinks too, which means you can have the whole snacking experience, without having a warm trail of melted chocolate running down your throat or a salty tongue. Each snack is only a dollar or fifty cents, so you can just grab a buck or few quarters from your piggy bank. It's as easy as that! That way, if you usually save something from lunch for after school, you can gobble that down and not worry about starving during gym or cycles.
Be sure to thank the wonderful HSA parents who volunteer at the Snack Stand every afternoon! They donate their free afternoons to handing snacks out to you. I'm sure it can be hard with all the hustle and bustle of kids trying to grab a piece of chocolate or hand over a dollar bill, but be sure that you smile and say "thank you" before you slid out of the way from the line of other hungry middle schoolers. Your warm smile and kind words will really make everyone's day, so use them as often as possible.
Make sure to stop by the FMS Snack Stand! Remember, right by the front entrance, everything costs only a dollar or fifty cents, and a smile and kind "thank you" goes a long way.