101 Things to Do This Summer in 2023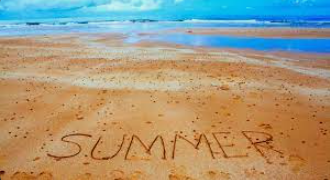 Are you worried you'll be bored this summer? Well, here are 101 activities you can do to make the most of summer 2023! Which ones will you try? 
Go outside

Go to your Town Pool (If you have one)

Have a sleepover

Join a sports team

Make a new friend

Eat ice cream

Read a book

Play wiffleball (Read my article about wiffleball)

Go on a road trip

Go to the beach

Make a music playlist on Spotify

Visit a different state

Watch a documentary

Go to a sports game

Ride your bike

Go into town with friends

Buy crocs

Visit a national park

Camp in your backyard

Roast marshmallows

Have a picnic

Go to a waterpark

Go on vacation

Take a nap

Eat a s'more

Make homemade chocolate chip cookies

Make homemade chocolate milk

Join a fantasy football league

Learn a new language

Watch the NBA Draft

Watch the FIFA Women's World Cup

Go to a concert

Play beach volleyball

Go boogie boarding in the ocean

Build a sandcastle

Lift weights

Get a sun tan

Go to a barbeque

Grow a plant

Eat Girl Scout cookies

Play a board game

Watch the NBA Summer League

Watch the MLB

Eat a burger

Eat a hot dog

Make a pizza

Make a PB&J

Drink orange juice

Walk your dog

Wear Sunscreen

Do a flip off a diving board

Do a cannonball into the pool

Go to Quickchek

Be in a parade

Complete a coloring page

Write a story

Sleep

Learn a new instrument

Write a poem

Do a social media detox

Play hide and seek

Play wordle

Run on the beach

Go to a restaurant

Have a lemonade stand

Go to an old-fashioned arcade

Clean your room

Buy your parents a gift

Do your chores

Buy a new pair of shoes

Become a Little League Umpire

Make a diving catch

Play fetch with your dog

Clean out your phone notifications

Eat a pizza with a ton of toppings on it.

Get a YMCA membership 

Make a comic strip

Eat an apple

Be kind

Make a smoothie

Play Minecraft

Do yoga

Do a science experiment

Have a family dinner

Bounce on a trampoline

Take a hike

Visit a relative

Call a relative

Unstructured play

Buy ice cream at the town pool

Have a catch (w/ baseball, softball, football, etc.)

Fly a kite

Plant a small garden

Learn how to play chess.

Hang up posters in your room

Go to a carnival or fair

Help a neighbor

Make your own short movie

Play ping-pong

Play Cornhole

Stop reading this article and start completing this list!