Playa Bowls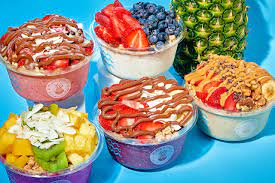 Do you want to have a delicious but healthy treat? Well, Playa Bowls is the place for you! 
About Playa Bowls
Playa Bowls was founded by Robert Giuliani and Abby Taylor in 2014. Robert and Abby started their business by making a deal with the owner of a pizza place to set up their own pop-up stand in front of the pizza place in Belmar, NJ. Their passion was to teach their customers about the health benefits of acai. Many people were intrigued by this new pop-up stand, and they were soon the talk of the town. As a result, they needed to upgrade and they bought their first restaurant. Now, Playa Bowls has over 150 locations all around the United States, including one in our very own Morristown (14 North Park Place)! 
The Menu
Playa Bowls has a variety of different things to order. It is healthy but delicious at the same time – just the perfect combination! There are a variety of options for anyone to enjoy. 
The Smoothies
Smoothies are the some of the most popular options on the menu at Plays Bowls. Some examples of smoothie flavors are strawberry banana, blueberry cherry, gingerbread vanilla, and banana pineapple. There is a smoothie for everyone no matter what your preference. 
The Bowls
As popular as the smoothies are, the bowls are what Playa Bowls are known for. There are different bases for the bowls that you can choose from. The base is the main part of your playa bowl. The different bases are acai, chia pudding, pitaya, and many more. You then have many different toppings on top of your base such as strawberries, bananas, blueberries, Nutella, honey, coconut flakes, and much more. You can have whatever combination of toppings you'd like, or you can choose from their favorite bowls!
Conclusion 
To conclude, Playa Bowls is a great choice to cure your hunger for something healthy but delicious. It is a great choice for anyone looking for a delicious treat. When will we see you there? 
Works Cited
Playa Bowls, 10 August 2022, https://www.playabowls. Accessed 31 January 2023