The Green: The Heart of Morristown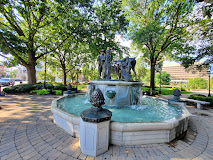 The town of Morristown is a delight to visit. There are many attractions ranging from jockey hollow to Macculoh hall museum. We live here so sometimes we might not notice all of the wonderful sites to visit. However, by far, the best attraction is the Morristown Green.
What's on the Green?
A town favorite is the Morristown Green, which is in the dead center of Morristown. Today, it is a luscious green and beautiful attraction with a fountain and is dog friendly. Its bright green grounds welcome anyone to take a walk and leave with a smile on their face. The Green is the heart of Morristown. It will always be enjoyed by everyone, from little kids to the elderly who sit on benches and feed squirrels chips.
Around this circular public attraction, there are a variety of restaurants to choose from such as Starbucks, Inspiration Rolls, the Committed Pig, Iron Bar, Sterling Tavern, and many more. The Green welcomes tourists to historic Morristown and these fine establishments.
The history of the Green dates back to the 1700s! The Green was originally used as pasture land for the early settlers. The Green is very important in Morristown's war history, with statues of  Alexander Hamilton and George Washington to commemorate its role as a military parade ground during the American Revolution. The first county courthouse and the first jail and pillory were also located on the Green, as well as churches and commercial buildings.
To summarize, the Morristown Green is a wonderful place with much historic importance, as well as places to visit and have fun. The Green will always remain and may even outlive some of us. The Green is a go-to in Morristown and will always be. What do you enjoy doing at the Green?
Work Cited
"History | mysite." The Morristown Green, https://www.morristowngreen.org/history. Accessed 7 February 2023.