Crumbl Cookie Review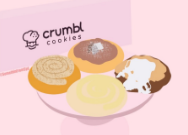 Have you heard of the new cookie bakery, Crumbl Cookie?  It's a very popular store, but many people have opposing opinions on it. Is Crumbl cookie worth the ride? Read on to find out! 
Crumbl Cookie has many different flavors. They change the cookies every week but they will always have the classic chocolate chip cookie on the menu. The cookie menu usually reflects the holidays that occur. They are made like the majority of other cookie recipes, but with a twist.
What's so special? 
Crumbl cookies are unique because of the almond extract that is used to make these delicious treats. "The almond extract adds a subtle flavor that blends well with everything else in the cookies," says Brendan Cunningham,  a recipe designer. Another special aspect of Crumbl Cookie is that the cookies are freshly baked to order, but are also ready quickly so you can eat them almost right out of the oven!
Reviews
The reviews on Crumbl cookie are  4.5/5 stars, according to Google Reviews. Some of the good reviews were describing how delicious the cookies were and how fast the orders were prepared. They also commented on how nice the employees were. One person said, "Cookies were all absolutely delicious! So fresh! The staff were super nice and the store is really clean! I ordered ahead and got my cookies fast! It looked like the line was also moving relatively quickly. The store is small so they control the amount of people in there." However, on the negative side, people said the lines were unbearable, ordering online had many issues, and they were undercooked in their opinion. Proving that, one comment said, "I'm surprised this place receives strong ratings and often has a line out the door. While the staff is friendly, the cookies are very expensive, overly sweet, and undercooked. This business shows the power of marketing, it's style over substance."
Overall, despite some negative aspects, Crumbl Cookie is a great place to have a dessert and enjoy. In conclusion, the cookies are usually perfectly cooked and even though the line is long, it's totally worth it in the end. Everyone should try Crumbl Cookie!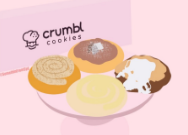 Work Cited
Cunningham, Brendan. "Crumbl Cookies Recipe | Soft & Chewy With The Most Delicious Icing." Recipes That Make You Say "I'm Hungry For That!", https://imhungryforthat.com/crumbl-cookies-recipe/. Accessed 11 October 2022.