Hershey Park: The Sweetest Place on Earth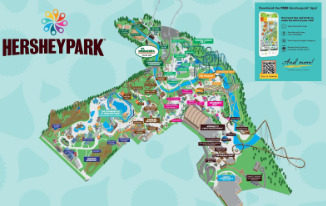 There are 5,814 amusement parks in the United States, but the place to be is Hershey Park in Hershey, Pennsylvania. This park has it all: rides for the entire family, great food, and a water park when you need to cool down during the hot summer months. When you get into the park, you are "assigned" a candy, based on your height, which determines the rides that guests can safely enjoy. 
On May 30, 1906, the founder of Hershey's chocolate, Milton Hershey, opened Hershey Park to provide a fun experience to his employees, their families, and also to the public. The oldest roller coaster in Hershey Park that is still running today is the Comet, which first opened on May 30, 1946. Sadly, Milton Hershey never got to see the opening of this roller coaster because he died around a year before it opened. One defunct roller coaster that Milton Hershey did see the opening of was the Wildcat, which opened in 1923, but was closed 22 years later in 1945.
Hershey Park Roller Coaster Rankings
I love the rides at Hershey Park! The following are my thoughts and ratings of the roller coasters. Which ones are you interested in going on?
Cocoa Cruiser
Cocoa Cruiser is last on my list because it is a roller coaster for kids with just a 14-foot drop and a top speed of 16 mph. It's fun because it goes around the track twice, but for me as a thrill seeker, this would just be a detour and a waste of time at the park. Rating: 1 star
Wild Mouse
This coaster prides itself on making you feel like you are going to be thrown onto the pavement 45 feet below with many turns atop the coaster. However, this ride is extremely slow with a top speed of only 28 mph. Rating: 1.5 stars
Trailblazer
This roller coaster isn't bad with a top speed of 45 mph, but it doesn't have any real drops and just does a bunch of spirals before coming back to the station. Rating: 2 stars
Laff Trakk
The Laff Trakk is Hershey Park's only indoor roller coaster with only a top speed of 40 mph but has a 51-foot drop. The t-bar restraints on this roller coaster are very uncomfortable and take away from the ride experience. This ride also has very long lines and is not worth a wait above 45 minutes. Rating: 2 stars
Jolly Rancher Remix
The Jolly Rancher Remix is a re-themed version of Sidewinder at Hershey Park and usually has very long lines. This ride goes up a hill and into a corkscrew, leading into two loops. It then goes up a second hill and does it again backwards, but it just isn't worth the long lines. Rating 2.5 Stars
Comet
This is the oldest roller coaster still standing at Hershey Park and is a great wooden roller coaster and always has moderately short lines. It has this ranking not because I don't like it, but just because there are better roller coasters in the park. Rating: 3 stars
Sooper Dooper Looper
This ride goes 45 mph and only a 57-foot drop, but it has a very smooth ride with a giant loop, which you ride through later on in the ride. It is also a very long ride as it is close to 2 minutes in length. Rating: 3 stars
Wildcat
Wildcat was named after Hershey Park's first roller coaster, which closed in 1945. The second Wildcat ride was popular but closed permanently on July 31, 2022. This coaster was the tallest out of all the wooden roller coasters and was only second in speed to Lightning Racer by only 1 mph. There are many rumors that this ride will be RMCed. This means that they will maybe incorporate a hybrid by using steel and wood to reimagine this roller coaster that many of us know and love. Rating: 3.5 stars
Lightning Racer
This wooden roller coaster is two racing coasters with a top speed of 50 mph and a 90-foot drop with many twists and turns, but the best part of this ride is how bumpy it is. I have many amazing memories of me racing my dad who was on the opposite coaster. Rating: 3.5 Stars
Storm Runner
This red steel coaster has a hydraulic launch system that sends you screaming from 0-72 in 2 seconds and over a 180-foot hill then into a cobra loop and many barrel rolls. Rating: 4 stars
Great Bear
This always happens to me. I am just minding my own business until, "ROAR!!!" the feet dangling coaster whizzes by me at a top speed of 61 mph just coming off of the 124-foot drop. This is a great ride, but you will lose your cell phone and flip-flops on this ride. 
Rating: 4 stars
Skyrush
This yellow beast is the second tallest roller coaster in the park at a height of 200 feet, but the lift hill does break down frequently and you could endure some long lines to get on it. Otherwise, the ride experience is great and the coaster runs very smoothly. Rating: 4 stars
Candymonium
It takes a lot to miss the chocolate-colored, fastest, and tallest roller coaster in the park that greets you through the gates as you enter. I personally have not ever been on this young ride because the attendant wouldn't let me on with my cast on, but judging by watching it, this looks like an amazing ride and would definitely be number 1 on my list if I had been on it. 
Rating: TBD (But most likely high)
Fahrenheit
This orange roller coaster is the steepest in the park with a 97-degree, 121-foot drop and a maximum speed of 58 mph. This roller coaster has it all, zero-G airtime hills, loops, and corkscrews. The only flaw about this ride is that lines could have up to a two-hour wait at the most, but that isn't likely to happen because most riders are attracted to Candymonium, which has lines that can exceed three hours. Rating: 5 stars
I hope that this information has sparked an interest to learn more about roller coasters or maybe even overcome your fear of them to realize how fun they are! Also, I strongly suggest that you visit Hershey Park for its rides for the entire family and luxury resorts near the park. Try to find some time to drive with your family a few hours down to Hershey, Pennsylvania to enjoy this place that is so special to me and many others.
Works Cited
https://www.hersheypark.com/explore-the-park/rides/?ride_types[]=1&seasons%5B%5D=halloween. Accessed 11 October 2022.