Best Restaurants in Morristown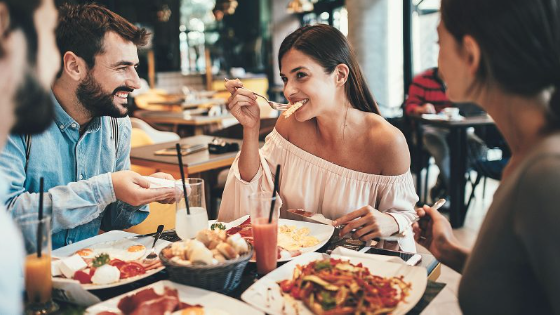 Genica Stagathe, Writer
October 18, 2022
Although Morristown has many places to eat, some of the best places are located in the heart of the town. Some will agree to disagree, but in my opinion, these are the best places to eat.
Committed Pig
The Committed Pig is located across from the Green. With a wide variety of breakfast, lunch, and dinner, the Committed Pig will serve you well. The Committed Pig is a place where people come to enjoy a good meal and have good conversations. The Committed Pig was first named "Food", but after much thought the owners Jerry and Tony decided to change the name to The Committed Pig in February of 2016. The restaurant became popular and was trending throughout New Jersey and is still popular up to this day. The Committed Pig has a 4.4/5 star rating and is the second best restaurant out of a total of 96 restaurants. Although the Committed Pig Staff can be a bit slow, the delicious menu makes up for it.
Godfather's
Godfather's is the place to be. With its amazing smells of all of the different pizza toppings, it can be hard to choose the one you truly want! Godfather's is located on the bottom level of the Highlands at the Morristown train station and is the second pizzeria started by Jerry Forte. Godfather's was founded in 1975 and has a rating of a whopping 4.1/5 stars. Godfather's is a great restaurant for people to come together to enjoy different types of delicious pizzas and other Italian foods!
Fig and Lily Garden
Fig and Lily Garden is located close to the Green by the Hyatt Hotel. Fig and Lily Garden serves a large amount of cuisines, and is a great place for outdoor dining with friends and or family. Fig and Lily Garden has a rating of 4.4 stars.
In conclusion, the three restaurants that I chose are the best in Morristown because they have the highest rating and are a good place for people to hang out with their family and friends. Check them out the next time you go out to eat!
Works Cited
The Committed Pig: Fine Casual Restaurants in Morristown, Manasquan & Summit, http://thecommittedpig.com/. Accessed 17 October 2022.
THE GODFATHER | The pizza you can't refuse!, https://www.godfatherpizzerianj.com/. Accessed 17 October 2022.
Fig and Lily Garden | Mediterranean restaurant in Morristown, NJ., https://www.figandlilygarden.com/. Accessed 17 October 2022.