There's No Place Like FMS!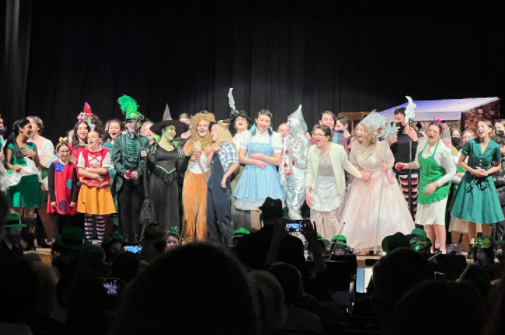 After a year of silence, we're back! And we got to see the Wizard! 
You might have seen the musical put on by the talented students involved, directed by Ms. Montague, Ms. Bozza, Ms. Molinaro, and Ms. Lefkovits, with the talented and skilled pit directed by Mr. Gallagher. This year's school play was The Wonderful Wizard of Oz!
Our previous show, The Little Mermaid, put on in March of 2020, had a cast of over 80 students. This year, The Wizard of 
Oz had a cast of only about 50 or so people. Even though we had fewer people, the show was still a success!
The students involved in the cast had auditioned right before winter break and started practicing in January, with practices running until 5 o'clock at night in February. We have been learning music and how to act. Dances were taught by Ms. Christin at the dance academy Art In Motion. It is a great way to spend your time if you find yourself a bit bored after school on weekdays.
The people in the crew dedicated their weekends and weeks to help build and paint the beautiful props, sets, and costumes, with the help of many students and parents. If you find that you are a bit more on the creative side, crew is a great outlet for that.
Even if you aren't the biggest fan of the arts, the play still offers so much, such as making friends, improving skills, and creating irreplaceable memories. The theater creates a family, a home away from home. 
The Frelinghuysen shows are always so much fun to participate in, always bring joy to the audience, and are all in all amazing to be part of.  You might surprise yourself with what you can do and we hope you might consider joining us in the FMS Spring Musical next year!
No matter what you decide, there is no place like FMS!
You can check out the FMS Spring Musical Website at: https://sites.google.com/a/msdk12.net/fms-spring-musical/home