Is Duolingo Plus Worth 80 Bucks a Year?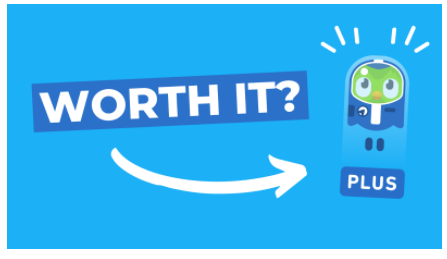 Rafael Oliveira, Senior Editor, Layout Editor, Staff Writer
November 15, 2021
As many of us may know, Duolingo is the leading online service in learning a new language, and hundreds of thousands of people are now fluent in another language thanks to Duolingo. Offering almost 40 different courses right now, with 4 courses in beta development, I, and many other people, would recommend that you try Duolingo to learn any language. However, Duolingo has a subscription service called Duolingo Plus. In this article, we'll get into whether buying this service will help you learn faster, or will drain your pockets.
Duolingo Plus is a subscription service for the app which allows you to have unlimited hearts, zero ads so you can learn faster, be able to work offline without an internet connection, review mistakes that you've made, track your progress with Mastery quizzes, and be able to test out of any level to unlock harder content without having to use gems, all for $12.99/month, and $79.99 a year. This may sound amazing to some, however, I believe that all of this isn't worth $79.99 a year.
First of all, if you run out of hearts, you can either wait for a refill, watch an ad, or buy some hearts with gems. Sure, having unlimited attempts on any question is very nice to have, though it's not essential, since there are so many other easy ways to get hearts so you can get back to learning. Another thing that the service offers is the removal of ads. Now, most apps have an option to pay money to remove ads, and it's usually around 20-30 dollars if they include other features with it. But 80 dollars a year? That's not exactly a good deal in my book. Even a Nintendo Switch Online Expansion Pack Family Plan is cheaper, and it has just as many (if not more) features as Duolingo Plus. 
The only redeeming quality I think this service has is the mistake tracker and the Mastery Quizzes. Those help you a lot, as they are curated for you. The ability to practice your own mistakes will help to point out what you need to work on, and what you've mastered. The Mastery Quizzes help you even more because you can see how far you've gone in the language you're learning. However, the fact that you can't test out of a level unless you use gems is ridiculous, as is not being able to work offline. The whole reason they did that is to encourage people to either buy Duolingo Plus or spend money on individual gems.

Overall, I do think that Duolingo Plus can be useful for new language learners. You would have to be EXTREMELY dedicated to that language and practice every day, or you would be wasting a lot of money on it. If you want to test it out without investing a large sum of money in it, you should take the 2-week free trial, as it can help you get ahead in that short time. I don't think that it's worth $79.99 a year though.