"good 4 u" v. "Misery Business": Musical Plagiarism?
In May, musician and actress Olivia Rodrigo released her debut album "Sour." It was said to have been inspired by musicians such as Fiona Apple and other '90s alternative rock girls,' but it ended up facing some controversy with 2000s 'alternative rock girls.'
In 2007, Paramore released their first charting single "Misery Business", (which isn't performed live anymore due to its controversial lyrics) but recently, it's come back into conversation after several social media users were comparing the sounds of "good 4 u" to "Misery Business". One youtube video by @Adamusic which created a mashup of the two sparked a lot of speculation of sampling "Misery Business" on Rodrigo's behalf after the video gained over 3.7 million views. With a difference in BPM (beats per minute) of only 4 beats, the songs are incredibly similar. A TikTok trend also came out of this (usually done by people who were teenagers when Misery Business first came out) where they caption a video with "me wondering why I like good 4 u so much" and then the music cuts from "good 4 u" to "Misery Business".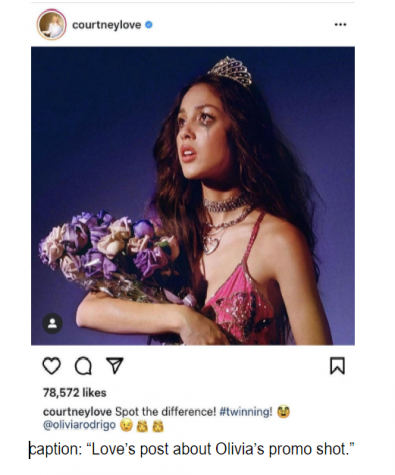 This isn't the only time Rodrigo has been accused of plagiarism, in her music or otherwise. Recently, Taylor Swift and Jack Antonoff have been added to writing credits of "1 Step Forward, 3 Steps Back" after it was revealed that the song was an interpolation of Swift's "New Year's Day." Notably problematic musician and Hole frontwoman Courtney Love has also accused Olivia of copying the cover of "Live Through This" for a promotion Rodrigo did without asking her. Love captioned a photo of the cover and the promo shot placed side by side, "Spot the difference! #twinning! @oliviarodrigo," and many fans wondered if Courtney was being passive-aggressive or not. One Facebook user commented, "I honestly can't tell if ur mad or nah bestie" and Love responded, "she didn't ask . So a bit of both . I dig manners . X" but she also responded to other comments asking how she felt about it in rude ways that I most likely shouldn't share. However, Courtney was inspired by the Carrie movie herself, so it's a bit hypocritical of her to attack someone for being inspired by her work.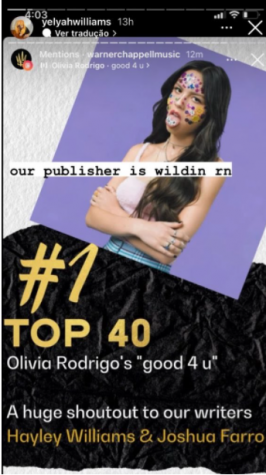 Back to Misery Business though. In late August, Paramore frontwoman Hayley Williams and ex-guitarist Josh Farro were added to the songwriting credits on "good 4 u." Hayley has often been cited as an influence and inspiration for Rodrigo, which supports the claim that "good 4 u" may have sampled or interpolated "Misery Business."  "Good 4 u" is currently in sixth place on the Billboard Hot 100 Chart, but spent many weeks at Number 1, making the song a huge hit for Rodrigo. But, how much are Williams and Farro making off of it? Billboard claims both artists could be making up to $1.2 million since the success of "good 4 u". The first to address the songwriting credits was Paramore's publisher Warner Chappel, with an Instagram story congratulating the two. Shortly after, Hayley reposted a picture of the story to her Instagram story with the caption "our publisher is wildin rn" which seemingly referred to the fact that she was surprised that her publisher posted it, but some people took it as a subtle dig at Olivia or the song. Overall, I think it's silly to get upset over this debacle at all since they're all very talented musicians and shouldn't be pitted against each other. Musical plagiarism is a bit of a grey area in the industry and in most situations, artists shouldn't be belittled because of such a complicated accusation.
Works Cited
Aswad, Jem. "Olivia Rodrigo Adds Paramore to Songwriting Credits on 'Good 4 U'." Variety, Variety, 25 Aug. 2021, variety.com/2021/music/news/olivia-rodrigo-paramore-good-4-u-misery-business-1235048791/.
Henry, Ben. "Olivia Rodrigo Has Reportedly Given Up Millions Of Dollars In Royalties To Taylor Swift And Hayley Williams After Being Accused Of Copying Their Songs." BuzzFeed News, BuzzFeed News, 2 Sept. 2021, www.buzzfeednews.com/article/benhenry/olivia-rodrigo-paramore-good-4-u-taylor-swift-deja-vu.
Dzurillay, Julia "Olivia Rodrigo Addresses 'Good 4 U' and Paramore's 'Misery Business' Similarities." Showbiz Cheat Sheet, 18 Oct. 2021, www.cheatsheet.com/entertainment/olivia-rodrigo-addresses-good-paramores-misery-business-similarities.html/.
Cordero, Rosy June 27, 2021 at 02:10 PM EDT. "Courtney Love Accuses Olivia Rodrigo of Copying Hole Album Cover: 'It Was Rude of Her'." EW.com, ew.com/music/courtney-love-accuses-olivia-rodrigo-of-copying-hole-album-cover/.