Discrimination Against Asians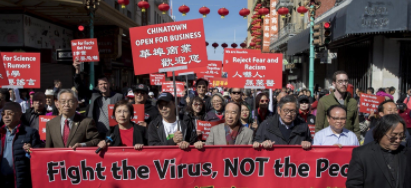 The Coronavirus has increased the number of Anti-Asian hate crime reports, which date back centuries. The Pew Research Center conducted a survey in which every three out of ten Asian Americans were attacked with slurs and jokes. Former President Donald Trump had called COVID-19 the "Chinese Virus", which in part led to an increase in virtual Anti-Asian hate. However, these attacks are happening in person too. Recently, there was a series of shootings in Atlanta in which eight people were left dead, and six of the victims were women of Asian descent. Many believe that the suspect had sexism and racism as his motives, but the authorities haven't yet decided whether or not it was a hate crime. According to the Stop AAPI Hate Coalition, there have been over 3,800 Anti-Asian hate crimes. Businesses are the main place where discrimination happens, followed by public streets and parks. Online hate accounts for about 11% of the total incidents. The primary form of the crimes are through verbal harassment, which makes up 86% of crimes. There have been multiple other reports.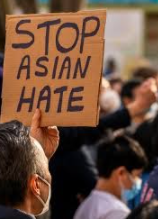 The Stop AAPI Hate Coalition says that there have been reports of Anti-Asian hate crimes from all fifty states of the U.S.A. and the District of Columbia. In an incident in a Virginian metro, a man was harassed and pepper-sprayed, while repeatedly being called "COVID-19." In Texas, a woman was coughed on and told, "You and your people are the reason we have Corona… go sail a boat back to your island." These attacks are very harming to a person, both physically and mentally, and have caused many deaths and long-standing harm. They have to stop before the situations escalate anymore than they already have.
There have been many celebrities and influencers who have spoken out against these crimes. For example, Vivan Shaw, a science fiction author, said "This pandemic has affected the most vulnerable of the vulnerable. When we talk about anti-Asian racism, it's not within a vacuum." Lana Condor, star of To All The Boys I've Loved Before, posted on Instagram about Anti-Asian violence, on how Trump's words negatively affected the Asian community. She wrote, "You have no idea the ramifications your racist words and actions have on the Asian American community. You simply cannot even fathom the danger you are putting our community in… Please be better. So we aren't afraid to leave our house in fear someone will verbally or physically abuse us because of your xenophobia." Many other celebrities spoke up, including BTS, Megan Thee Stallion, Sandra Oh, Rihanna, Pharrell Williams, Cardi B, Ashley Park, etc.
Anti-Asian hate will not stop on its own. Safe protests and rallies are a great way to start change and catch attention. Donations to various AAPI organizations will always help get needed supplies. Signing petitions is a safe way to help, and staying aware of what is happening will always be good. The Asian American community needs help, and you can do this by trying to spread awareness on the matter and by boosting Asian voices. If someone does something racist, call them out on it, and/or report it. Now is not the time to be silent. One voice can save hundreds.
Works Cited
Good Morning America. "Asian Celebrities Speak out against Hate Crimes, Spa Shootings." Good Morning America, www.goodmorningamerica.com/culture/story/asian-celebrities-speak-hate-crimes-atlanta-shootings-sandra-76603783.
Mineo, Liz. "A Long History of Bigotry against Asian Americans." Harvard Gazette, Harvard Gazette, 25 Mar. 2021, news.harvard.edu/gazette/story/2021/03/a-long-history-of-bigotry-against-asian-americans/.
Ruiz, Neil G., et al. "Many Black, Asian Americans Say They Have Experienced Discrimination Amid Coronavirus." Pew Research Center's Social & Demographic Trends Project, Pew Research Center, 17 Dec. 2020, www.pewresearch.org/social-trends/2020/07/01/many-black-and-asian-americans-say-they-have-experienced-discrimination-amid-the-covid-19-outbreak/.
Jeung, Russell. Stop AAPI Hate, 2021, secureservercdn.net/104.238.69.231/a1w.90d.myftpupload.com/wp-content/uploads/2021/03/210312-Stop-AAPI-Hate-National-Report-.pdf.
"'Do Better': Celebs Speak Out Against Racist Attacks Toward Asians During Coronavirus Pandemic." Google, Google, www.google.com/amp/s/people.com/crime/celebrities-speak-out-on-racist-attacks-against-asians-during-coronavirus-pandemic/?amp=true.
Ramachandran, Vignesh. "What You Can Do to Fight Violence and Racism against Asian Americans." PBS, Public Broadcasting Service, 18 Mar. 2021, www.pbs.org/newshour/nation/what-you-can-do-to-fight-violence-and-racism-against-asian-americans.