Earbud Recommendation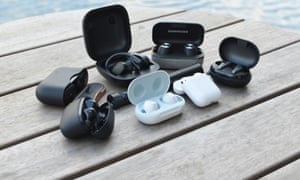 Do you want affordable yet excellent quality earbuds and headphones? If so, you've come to the right place! Keep reading for earbud and headphone options, both affordable and on the more expensive side, for fitness, music, and casual wear. These are the best of the best!    
For the Fitness-Geek
A problem that I always come across when I work out is how my earbuds always fall out. If I'm running, my head bounces, and earbuds always fall out because of sweat or constant movement in other cases. That all stopped when I found these earbuds. The more affordable option is the JLab Audio Earbuds which can be found on websites like Amazon, Walmart, and Best Buy. These are really good earbuds for not only the runners, but core and weight trainers. The bass is absolutely amazing, and they work with iPhones and Android phones. These earbuds are water and sweat resistant and are touch control so you don't have to fumble with buttons or your phone while working out. The more expensive option is the Beats PowerBeats Pros. These are more expensive but worth it. They will ensure that you have amazing sound all during your workout, and have a very powerful battery life. With a fast charge time of 5 minutes giving you 1.5 hours of listening, you are guaranteed to have not only good workout time but also listening time on the side. Unlike the JLab Earbuds, each of the Powerbeats Pro has a volume rocker on the top and contains a play/pause button. The earbuds can be used individually AND together providing you with surround sound audio. Both of these earbud options are the best of the best for working out, and I highly recommend both of them.
For the Music-Lover
Very often while listening to music, I had the problem of not getting the sound that I wanted. The music was always flat and had no real purpose to use. Once I found these headphones, it all changed! Starting off with the more affordable option are the Sony WH-CH510 headphones.  These are absolutely amazing headphones because they provide great sound and really good battery life. we have the on-ear Beats Solo Pro's. These are the absolute best! They have volume, play/pause, answer/decline, and your voice assistant controls. Sound options are modified via the pairing button on the bottom of the left earcup. They include noise cancelling mode, or ANC, transparency mode to let in your surroundings, and normal sound to save your battery. 10 minutes will give your headphones about 3 hours of juice and listening time with noise cancelling on. If you wanted premium earbuds for music, I suggest the Bose QuietComfort Earbuds. These have great sound, and if you are looking for something portable and comfortable, I HIGHLY recommend these. A quick charge takes 15 minutes and gives you a time of 2 hours of listening.
Recreational 
If you are just looking for something to wear around the house or while you go walking around town with friends, these are for you! Starting off with the more affordable option, we have the Mpow Flame Wireless Earbuds. These are great because they fit anybody's ear because there is a silicone tip to fit snugly inside of your ear and a hook to grab onto your ear lobe. These are good for everything. The more expensive option are Apple Airpods Pro. These are the absolute best because they have 2 modes, transparency mode and noise cancelling mode. They have great battery life and pair extremely easily to both IOS (Apple) and Android software. 5 minutes of charging gives you roughly 2 hours of listening time and 1 hour of talk time. 
Travel
Are you someone who really enjoys traveling but hates the sound of planes, trains, and annoying siblings in the car? Then here you are! Starting off with the premium option we have the Bose QuietComfort35 ii. These headphones block out all exterior noise and you don't have to worry about battery life because these headphones hold 2.5 hours of time with just 15 minutes of charging time! They are not too clunky because they fold inwards and slide right into the case. The less expensive option are the Jabra Elite Headphones. These hold about 36 hours of time on a single charge! 
In conclusion, hopefully one of these headphones will fit you, your personality and your needs! All of the links to the headphones are in the article, so hopefully that helps. Find what you need today to listen to the music you love.