Soul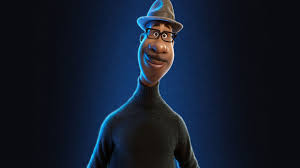 Pixar's new movie, "Soul," takes us on a mind-blowing adventure with difficulties around every corner. Soul is a family-friendly comedy movie about not taking your life for granted and enjoying the small things like going for a walk or eating your favorite food. Soul introduces our main character Joe Gardener, a middle-aged 8th-grade band teacher who is dreaming of something bigger. He wants to be a famous jazz musician. Around halfway through the movie, he gets his dream. But soon, he comes to the conclusion that it is not what he thought it was going to be. He now realizes that it's not the big things that matter in life, it's the small things that make your life better.
Jamie Foxx is a 53-year-old American voice actor, singer, and comedian who voices Joe Gardener. Angela Bassett is a 62-year-old American actress, director, producer, and activist who voices the character, Dorthia Williams. Dorthia Williams is a famous jazz musician in Soul and it's Joe's dream to be able to play with her. Tina Fey is a 50-year-old actress, comedian, writer, producer, and playwright who voices 22. 22 is a soul who can't find their spark and partners up with Joe. Soul is a different type of Pixar movie and would be entertaining for people who like movies about pursuing your dreams and passions. Some would consider Soul a sad movie, but it won't have you wailing like some other Pixar movies. Others would say Soul is an action movie because of how it hooks you into watching it. You can watch Soul with almost any age group, but kids aged 7+ would understand it better.
I like Soul because it gives us an inspiring life message about never giving up, and making sure you live the best life possible. It is a movie that shows equal rights promotes representation with a Black having the main character be black, and it has 50/50 men male and female and women characters. Soul is one of my favorite Pixar animations, and not just because of the plot, but because it isn't very much like any other Pixar movie. because it has a An actual  human as is the main character, the storyline is unique and acts are much different, and they introduce the characters and problems are developed thoughtfully, in a different way. As of today, Pixar Soul scores number 1 today under best movies in Disney Plus, so check it out!