The Hate U Give: Review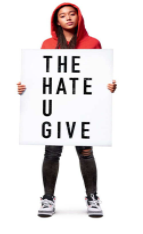 The Hate U Give is author Angie Thomas's debut novel, and after becoming a huge success it was even turned into a movie. The text has won many awards, including the Coretta Scott King Award, and is also a New York Times Best Seller. As stated by Newsweek, "The Hate U Give is a vital look at racism and police violence."
The Hate U Give is a young adult book about sixteen-year-old Starr Carter who lives in two worlds: her poor neighborhood and her fancy school across town, with different personalities for each. However, everything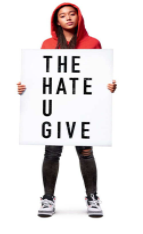 breaks when she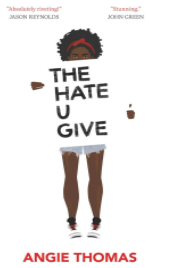 loses her childhood best friend, Khalil, shot by a white cop. Khalil's death becomes national news, and a few of Starr's friends say he may have had it coming. It becomes clear that the police have no intention of trying to know what really happened that night, and neighborhoods overturn with protesters. Starr learns that her most powerful weapon is her voice and fights with it, speaking for Khalil because he can't. Between everything, she lives a normal high school life with sports, friends, boys, and families.
Angie Thomas published The Hate U Give in 2017, expanding on a short story she wrote in college in reaction to the police shooting of Oscar Grant. It quickly became a bestseller and became a movie in 2018. Both book and film have some mature content, such as race, police violence, death, and strong language. Common Sense Media rated the text five out of five stars, for ages 13+. The book relates to many ideas in our world today. In both the book and life, there are many protests and rallies to try and change injustice in the world today. The Hate U Give talks about police brutality and the Black Lives Matter movement. The text teaches many lessons, like learning how to find yourself, as well as grief, hardships, and many more. 
There is a prequel to the book, which was released January 12th, 2021, and is titled, Concrete Rose. However, it is recommended to read The Hate U Give first or it may be a little confusing. The Hate U Give is a wonderful book and a must-read for everyone. 
Sources:
The Hate U Give by Angie Thomas
Thomas, Angie. Angie Thomas, Angie Thomas, 2017, angiethomas.com/.