The French Fry Competition!!!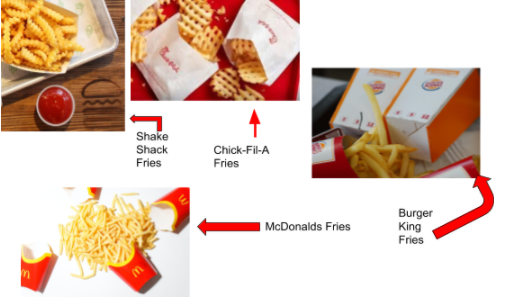 Have you ever wondered which fast food restaurant has the best french fry? There's steak fries, truffle fries, disco fries, waffle fries, shoelace fries and more. All over the world, new fry combinations and shapes are being created. We have narrowed it down to four of the most well-known fast food restaurants. The contestants are Burger King, McDonalds, Shake Shack, and Chick-Fil-A. Four will enter the competition but only one will leave with the title of the French Fry Champion!
     First up we have Burger King. When we picked up the fries from Burger king the first thing my mom and I noticed was the salty smell in the car, but when we tasted the fries, we were underwhelmed. Although the overall taste of the fries was good, the salt was lacking. Another point worth making is the texture and size of the fry. They were beautifully crisp and were a happy medium between shoestring fries and steak fries. Another downside to the fry was the quantity of fries. We ordered a large for $2.39 and it was nothing compared to the amount of fries in the Mcdonalds large size. Overall, Burger King fries had their pros and cons but were still a decent fry in the end.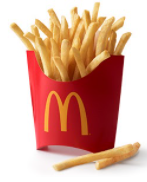 Next up we have Mcdonalds! For a large fry the total cost was $1.89. Keeping that in mind there were definitely more fries in this order then Burger King. The Mcdonalds fries had a very large difference in texture and size compared to the burger king fries. The fries were much skinnier and were extremely floppy with curves in all different directions. But unlike the fries from Burger King, McDonalds had a great amount of salt. Just like Burger King, McDonalds had their ups and downs but they were still decent fries in the end.
          Surprisingly, Shake Shack isn't as well known as the other fast food restaurants. Their burgers and hot dogs are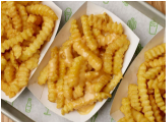 the best I've ever had. But I didn't write this to judge their burgers and hot dogs; I'm here to judge their french fries! Shake Shack has their fries in a crinkle-cut form. These fries are all different sizes, but they all share the same, wonderful, crispy taste. You can tell they always make them fresh when you order them because they're always as hot as the oven when you get them. Shake Shack sells their fries in one size, but they come with 3 options. Regular fries that sell at $3.09, Bacon Cheese fries that sell at $5.09, and Cheese fries that cost $4.09. This fast food restaurant is expensive, but trust me, it's worth it. These fries are perfectly salted, and the crinkle-cut makes your mouth water after you take a bite. They are pretty thick, so you can enjoy lots of them, and they'll fill you up! If you go out to the restaurant, you can have unlimited sauces, just as long as you buy something. These fries are amazing and I would absolutely recommend them.
Chick-Fil-A is well known for their chicken. But how well known are they for their fries? Chick-Fil-A's fries come in a waffle form. They look like this. Right off the bat, I noticed how much they filled the large bag I ordered. They overflowed it with fries! So you do get what you pay for, if not more. The fries are perfectly salted everytime. They are always cooked to perfection, and every fry tastes absolutely perfect. Chick-Fil-A's fries however are thin, but big. So they basically have the same amount as a regular french fry. You can buy them in a small, medium, and large plastic bag. They sell for $1.89 for the small, $2.15 for the medium, and $2.45 for the large. As a dipping, you can get Ketchup, Chick-Fil-A Sauce, Polynesian Sauce, Barbeque Sauce, and more. However, there are some limitations. You can only get 2 of 1 sauce. Or 1 of 2 sauces. What that means is, if you get 2 ketchups, you can't get anything else listed. Same goes if you get Polynesian Sauce and Zesty Buffalo Sauce, then you can't get anything else with it. Overall, Chick-Fil-A's fries might see the top, but you never know. They are amazing fries and are probably going to have the others eat their potatoes. 
And now for what you've been waiting for, your French Fry Champion!! 
| | |
| --- | --- |
| 1st | Chick-Fil-A |
| 2nd | Shake Shack |
| 3rd | McDonalds  |
| 4th | Burger King |
Congratulations to our 1st place winner, Chick-Fil-A! We hope you enjoyed hearing our opinions on some big name fast food restaurants. If you don't agree with us, try it out for yourself! Chick-Fil-A's fries are so crispy, salty, and the waffle fry form is just perfect. If you have never tried Chick-Fil-A's fries, you are missing out! Go get them!