Hot Cocoa Recipes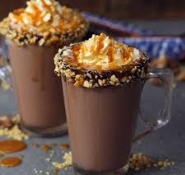 Who doesn't like hot chocolate? These recipes will make for a yummy warm and rich drink for any occasion. When it gets cold, you are thirsty, or you want a tasty treat that takes just a little bit of effort, make sure to try these recipes. They are fun to make, and if you have the time the more complex recipes sure pay off in the end! 
To start off, here's a recommended whipped cream recipe that can be paired with the first or second kinds of hot cocoa, if you want to go a little more complex than the simple canned topping, make sure to try out this quick recipe that any amteur chef could pull off.  
Whipped Cream- Serving Size: 1 
Ingredients:   
Heavy cream             
(4 tablespoons)
Granulated Sugar
(1 pinch)    
Vanilla     
(½ a teaspoon)
Tools:
Mixing bowl
Hand Mixer
Measuring Cups 
Steps
To start, pour the heavy cream and vanilla into a bowl, and turn your hand mixer onto low. 

Once you begin to see ripples, you can add in the vanilla, and turn your hand mixer up slowly. 

Make sure to mix until there are stiff peaks when you lift up the mixer, so the whipped cream does not melt in the hot cocoa.
This is a classic hot cocoa recipe because it's nice to stick with the basics sometimes and enjoy a more fresh and creamy drink, and avoiding the basic packets that you merely microwave. Although there are some tips, this recipe is pretty straightforward and only took me around half an hour. 
The Classic Hot Chocolate – Serves 4
Ingredients: 
Milk 4 cups

Cocoa powder ¼ cup

Granulated sugar ¼ cup

*Chocolate chips/ chocolate bar chopped ½ cup

Vanilla extract ¼ teaspoon 
Tools: 
A Stirring Spoon 
A Saucepan  
A Whisk 
Measuring Cups 
Put your saucepan on your stove, and turn it to medium-high heat. To start you pour milk into the saucepan, and once warm add in cocoa powder and sugar. Then, add the chocolate chips and whisk until the chocolate is melted and all is combined. Lastly,  add vanilla extract, and stir constantly, when at the desired temperature, pour into mugs and enjoy!
* I added a mix of dark and milk chocolate chips, to mine so it would taste less sweet.
* I added candy canes chopped up, and then at the end poured the chocolatey milk through a strainer into the saucepan before serving, getting out all of the candy cane chunks but keeping the flavor
"Tastes too bitter; needs less cocoa powder and more sugar" – Sophia T 
" The hot cocoa is delicious, needs more milk to balance things out" – Vivian S
Now before you get too freaked out by the complexity of this recipe, it is actually really fun to make, although it takes about 50 minutes and some kitchen skills. This is my personal favorite because I love peanut butter and chocolate, and it tastes very unique in a good way. 
Snickers hot cocoa– Serves: 6 
Ingredients:
2 Full-size snickers bars

2 tablespoons Cocoa powder 

Warm milk 4 cups, 1 tablespoon 

2 tablespoons Peanut butter 

2 tablespoons Caramel 
Optional– 
Chocolate sauce

Chopped peanuts

Caramel sauce 

Whipped cream 
Tools: 
Measuring cups 
Saucepan 
Blender 
Plastic Bag 
Scissors 
To start, warm up the milk in a saucepan, stirring until it is hot but not boiling. While this is occurring, cover the rim of a cup in chocolate sauce*and add crushed peanuts on them.

When the milk is hot, add to the blender, with snickers, peanut butter, caramel* and cocoa powder blend until there are no chunks and everything is mixed together

Add the now made hot cocoa to the mugs (which have the chocolate peanut rims), adding ontop freshly made whipped cream 

Add warm caramel to a Ziploc bag, cutting off a small portion of the tip, and drizzling atop the drinks
*Instead of chocolate sauce I melted chocolate chips and coconut oil, and let it harden instead, which is a much longer way to do it if you don't have chocolate sauce 
* Since I also did not have caramel I instead added Werther's hard caramel candies and some heavy cream in a bowl and microwaved it
" I love the way the flavors blend together, I have never tasted anything like this"- Ilana McGuinn 
"It is very good but is thin, could use some heavy cream, and an extra tablespoon of peanut butter so you can taste it more"- Carigan McGuinn 
This is a twist on a classic cake flavor, liquified, this recipe has a special kind of whipped cream, which really completes the drink, It was very good, and has many different components. This one took around 1:05 and was a little bit harder than the Snicker's hot chocolate. 
Red Velvet Hot Cocoa– Serves: 4 
Ingredients:
Heavy whipping cream 1 cup
Granulated sugar ¼ cup 
Cream cheese 2-4 tablespoons 
Whole milk 4 cups 
Water 1 dash 
Vanilla 1 ½ teaspoons 
Semi-sweet chocolate chips ¾ cup*
Cocoa powder ⅛ cup 
Red food coloring 2 teaspoons
Marshmallows ½ cup 
Butter 2 tablespoons 
Red food coloring ½ teaspoon 
Red/pink/ white sprinkles*
Tools: 
Saucepan 
Stirring Spoon 
Measuring cups 
Microwave 
To begin add heavy whipping cream and sugar to a bowl. You then mix until ripples form. 

At this point, you add in cream cheese* and blend it in until stiff peaks can be formed, then you put your bowl in the fridge to chill 

Next, add the milk and vanilla into a saucepan, and heat until warm occasionally stirring. 

Then add in chocolate chips in 3 portions, adding a little bit of water with it

Once this is mixed add in cocoa powder, and red food coloring until it is all stirred, and leave it on the heat letting it warm up more 

While this is occurring, you should melt marshmallows, butter and your red food coloring in the microwave until liquidy. 

You then pour the hot cocoa into a mug, add on top your creamed cheese whipped cream and then drizzle on your marshmallow liquid, sprinkling on top sprinkles
* I added some dark chocolate, in addition, to make it taste better 
* I added these on however they are optional, only add a little bit for texture and for decoration, if you add too much it will taste kind of weird 
"I love the whipped cream; it is my favorite part"- Payton McGuinn 
" Really good, maybe needs a little more sweetness"- Patrick McGuinn 
     Overall, I definitely think these recipes were very fun to try out and tasted delicious. For the cold wacky weather that always comes at this time of year, these are fun to try out and overall will not take that much effort or cleanup. Winter can get so cold it's snow joke, so make sure to drink and make this hot cocoa, before the opportunity is over, and summer begins once again.