Taiyaki Restaurant Review
         New York City has a reputation for having a pretty different variety of, well, everything! Policemen on horses, incredible museums, and street performers on every corner! But have you ever heard of fish-shaped ice cream cones? Well, at Taiyaki NYC in Chinatown, New York City, that's exactly what they make! Taiyaki is a Japanese custard-filled pastry crafted into the shape of a fish. Taiyaki NYC is a shop that puts a fun spin on the traditional Japanese pastry. They take the traditional pastry, leave some of the custard in the bottom, and then layers toppings and ice cream on top. It is very popular on social media, and the small, stand-alone shop has thousands of followers online as well.
The first thing that you have to choose when you order is whether or not you want a Taiyaki cone. If not, you can have your ice cream in a cup or normal cone as well. After that, you must choose your flavor. The flavors consist of vanilla, chocolate, black sesame, strawberry, matcha, and mango. Several of the flavors can be swirled, as well. Then, you have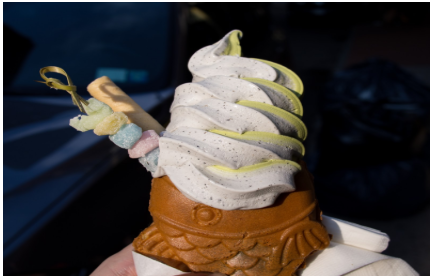 to choose your toppings. Some of these are rainbow or cotton candy sprinkles, crushed Oreos, coconut flakes, mochi, unicorn horns, and unicorn ears. Finally, you choose your drizzle. The drizzles available are chocolate, caramel, strawberry, and condensed milk. 
I am very thankful to have experienced this wonderful little shop first hand. The pastry is incredibly light and airy, while at the same time very rich. The ice cream is incredibly delectable, and the matcha (green tea) flavor is very interesting in a good way! The only complaint I would have is the organization of the shop itself. There are no lines, and it is very hard to get anywhere. Overall, I think that it is a wonderful experience, and would definitely recommend this experience to anyone interested.
                                                                                               Works Cited

"TAIYAKI NYC." TAIYAKI NYC, taiyakinyc.com/.