Horoscopes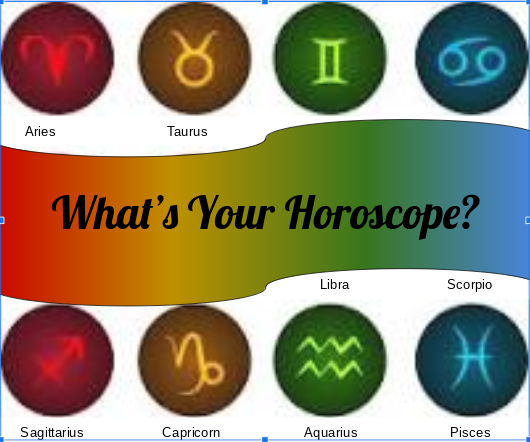 Aries- March 21 to April 20
This month, try and find a way to make someone's life easier. You never know what they could be going through so you should always try and help out in any way you can. It doesn't even have to be anything big. For example, something as small as helping someone carry their things can brighten someone else's day. If  you do one good deed a day, any karma you get will surely be good. 
Taurus- April 21 to May 21
This month, get to know someone you've never met. Even if they don't make the best first impression, you'll have someone who is there for you if even your closest friends aren't. Even better, try and change your impression on people you aren't fond of. After all, wasn't it the great Abraham Lincoln who said, "Do I not destroy my enemies when I make them my friends?"
Gemini-May 22 to June 21
This month, stand tall and proud. Don't let what other people say put you down. A good friend of mine once said, "They're jerks. Don't bother with them. They pick on people because they think it makes them cool. It actually makes them too busy to get a life." You should be proud of yourself and of your accomplishments. If you let them see that they hurt you, then you are feeding them. If you stop feeding them, they will stop doing whatever it is they are doing.
Cancer- June 22 to July 22
This month, try something new. Whether it's a new food, or activity, you will surely benefit from it. It sets a new change of pace that is either replenishing or in any standards, interesting. 
Leo- July 23 to August 23
This month, try to appreciate what you have, what you're getting, and how it will make you feel. Many people have worked very hard from where they have been to where they are now, and you should be grateful for that. 
Virgo- August 24 to September 22
This month, try to think outside of the box. Whether it's in art, or in writing, or even in extracurriculars,  your expressive nature will surely impress everyone around you. If you are doing a personal narrative, you could pick a moment that not everyone knows about. Or in art, if you have extra time, ask if you could free draw. If you can, then you could draw something that really express yourself! So this month, you do you! 
Libra- September 23 to October 23
This month, have a positive attitude. Try to find the little things in your day, and focus on the positives, not the negatives. For example, if you have a huge load of homework, at least you won't be bored! Or if you aren't looking forward to your cycle block, right after you get to go home! So, this month, stay positive! 
Scorpio- October 24 to November 22
This month, take a risk. Whether it's a small or big risk, it will be good to try something new. It might be something you've been meaning to for a while, or something you come up with spontaneously, as long as it doesn't hurt you or anyone else, it should be fine. Make sure it's a good risk, or you might regret it. 
Sagittarius- November 23 to December 21
This month, seize your moment. If you see an opportunity, grasp it! There is no time better than this to do anything. The days of the school week are Monday, Tuesday, Wednesday, Thursday, and Friday, NOT "Someday!" 
Capricorn- December 22 to January 20
This month, speak your mind. Don't let others opinions sway you. Be proud of yourself and your opinions. You and you only know what you are thinking, so you need to let people know what your opinions are.
Aquarius- January 21 to February 18
This month, some strange things might come your way. You might feel like all signs point to giving up, but things will only get worse if you do so. This month may feel very trying, but the answer to what you need to do is right in this month's description: TRY! 
Pisces- February 19 to March 20 
This month, happiness and good fortune will come your way. Don't use your happiness to make others feel bad though, or you will truly regret it! If anything, use this time to help others increase their good fortune. Good karma is key this month!