Bored Over Spring Break? Try These Ideas!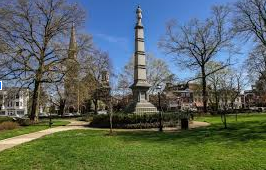 Olivia Gustaven, Writer
March 27, 2019
We all have that day when we're sitting at home, staring at the wall, and not knowing what to do. We just sit there and do nothing for hours at a time. There are many easy solutions to that problem. Morristown is such a great place to live because there are plenty of things to do. Here are three things to do in Morristown when you're bored over spring break.
One idea is to go to the Morristown Green. The Green is a great place to take a walk or hang out with friends. It has a small path that goes around it, great for a walk. There are also many beautiful flowers and trees to admire in the springtime. There are many stores and restaurants around the Green that you can enjoy as well.
Next, you can go to Jockey Hollow. Jockey Hollow is a national park right here in Morristown. It is a great place to go on a hike and enjoy the views. There are cabins in the middle of the park that were built during the Revolutionary War. If you decide to take a walk there, it is definitely great exercise. Nonetheless, it's a very cool, historical place to visit.
Finally, you can visit the Morris Museum. This museum has many cool exhibits that will surely teach you something that you didn't know before. An example of an exhibit at this museum is "Fresh Perspectives." This is a collection of photographs, paintings, etc. made by people in New Jersey. This is definitely a great museum to go to!
In conclusion, there are many alternatives to being bored this spring break. There are also many things you can do in Morristown! These things include walking around the Green, visiting Jockey Hollow, and going to the Morris Museum. So if you're wondering what to do over spring break, problem solved!
"Current Exhibitions." Morris Museum, morrismuseum.org/current-exhibitions/.