The Falcon Cup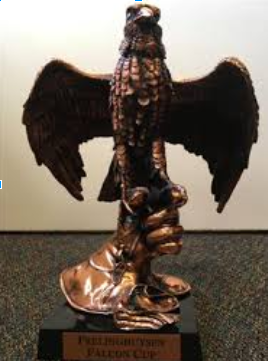 Hang on for a minute...we're trying to find some more stories you might like.
Frelinghuysen has always had Spirit Day competitions but last year, the administration added the element of the Falcon Cup to the Spirit Day competitions. In the competition to get the highest number of participants, the winning house is given the Falcon Cup to keep (until the next Spirit Day) and bragging rights. This year, the focus has been on the house results overall instead of last year's focus on results within homerooms.
Students really seem to appreciate how the Falcon Cup contributes to Spirit Days. For example, Maddy Jameson of House 2 says, "I like how it's a great way to get people excited and brings out the competitive side in people". Kate Ilias of House 3 encourages her fellow Dragons, saying, "We have to take them (House 1) down! If we all work together we can get it back!"
Unfortunately, participation in Spirit Days is down in the building, according to Mrs. Bozza's account of homeroom numbers. Students and teachers are not as interested in Spirit Days and as a result, students don't participate in big groups that have been seen before.
Luckily, student council has come up with a Spirit Week that is sure to bring up the previously scarce numbers. There was a PJ Day, a Twin Day, and Tourist Tuesday so far. It's a great opportunity to show your Falcon pride and give your house a boost in the Cup statistics. Mrs. Bremer says that so far House One is in first place with 3 Falcon Cup wins and Houses 2 and 3 are tied for second with two wins each.
Look out for the Spirit days remaining this week so you can help your house win the Falcon cup!
A special thanks to Mrs. Bozza and Mrs. Bremer for all of the information!