There Is A New Gold Rush In The Ocean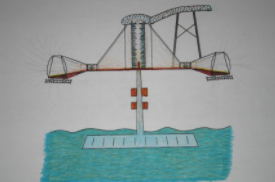 Hang on for a minute...we're trying to find some more stories you might like.
As you know, the whole world runs on electricity right? But did you know that electricity is made by using fossil fuels, like coal and oil? However, humans are starting to run out of fossil fuel to use. There are many ways to solve this problem; one is that there are 20 million pounds of gold in normal seawater. What if there is a way to extract that gold from the sea water, and use it to have another energy source? Well, scientists are already on it.
To start, glaciers are the cause of this gold. When the glaciers melt, they drop sediments, mineral pieces, of gold into the Bering Sea. This causes the gold to compact and cement with other gold sediments. According to the Discovery Channel, "For two million years, glaciers have been melting into the Bering Sea and depositing sediments with rich gold into its waters" ("Bering Sea Gold").
You are probably wondering who is planning to extract the gold. Well, an inventor and biomedical engineer named Mark Sullivan, featured on the show Shark Tank, is planning to use the gold sediments to create an energy source. This works by the rotation of Earth. His Sullivan Generator machine starts to make a tornado-like figure. The tornado combines the pieces of saltwater, brackish, and industrial waste water. According to Mark Sullivan, "Byproducts from the desalination process include fresh, clean water and valuable mineral precipitates, like gold and manganese" (Mark Sullivan Research). Byproducts are basically what is left over after the machine runs. Therefore, while producing electricity from the turbines, the minerals, like gold, are extracted from the water.
This is a brillant machine, but it is still a work in progress. Mark Sullivan is still trying to make his ideas reality. He says, "Right now we need this source of clean, renewable, alternative energy. There is an unequal distribution of resources on the planet. Wars may be fought over oil and water. I want America to be energy independent" (Mark Sullivan Research). Wouldn't that be amazing!
References:
Digital Cavalry. "Mark Sullivan Research." Mark Sullivan Research Home Comments, marksullivanresearch.com/.
Grundhauser, Eric. "The Dreamers and Schemers Who Have Tried to Get Gold From Seawater." Atlas Obscura, 24 Mar. 2017,
"Bering Sea Gold." Discovery – Full Episodes and Exclusive Videos, Discovery Communications, LLC, 2017, www.discovery.com/tv-shows/bering-sea-gold/.