How Not to Get a Frostbite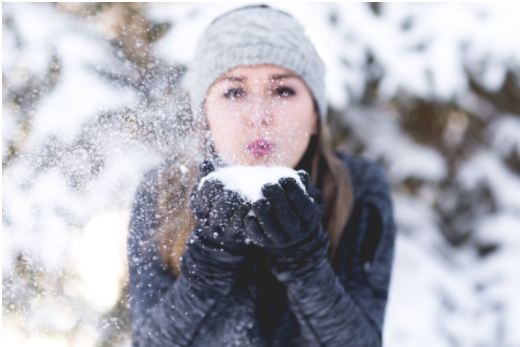 Hang on for a minute...we're trying to find some more stories you might like.
The holidays are here (finally)! What goes hand-in-hand with that, is cold weather. Now, as a person who is always freezing and seems to need a sweatshirt at all costs, I have decided to help the fellow people who are constantly cold with some tips and tricks that always work for me.
Now the first tip, this is something that I live by, is to keep your head warm. Wear a hat or something cover your ears. Surprisingly, this does wonders for the rest of your body. This is so much easier than trying to cover your whole body with thousands and thousands of layers. Also, don't go outside with wet hair; it will be a catastrophe! You instantly get a throbbing headache because of your wet hair, and the icy winds will not give you a nice blowout!  Lastly, get warm before you leave. This might sound confusing; however, it is really simple. If you are warm inside your house, then the cold weather outdoors isn't as bad. Think of it this way, if you are already cold, and you go outside where it is even colder, how will you get warm?!
Staying warm in your house is not always easy, because it takes a lot to power on your furnace for a couple of hours. Instead, try baking! Turning on an oven heats up a large portion of your house; you can try to bake cookies or any sweet treat. If you bake cookies, once they are done, you can invite a few friends over. You will then be kept warm from the fresh cookies! Don't feel like inviting friends over? Just eat them all yourself (no judgement here)!  A lot of great items can keep you cozy and warm too. For instance, I suggest wearing socks and always keeping blankets close. As the saying goes, keep your friends close! The best fuzzy socks that I have are called Cabin Socks! They are so fuzzy on the inside!! You can find them at DICK'S here! Stay warm with all these techniques!
If you get cold easily, keep these tips in mind. Don't fret and stay inside all of winter, try to stay warm and bundled up outside! Have a great holiday season and stay warm!