The Wishing Spell: A Magical Book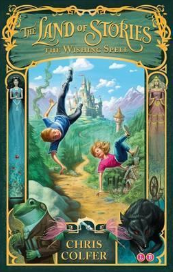 The Land of Stories: The Wishing Spell is the first book of The Land of Stories series by Chris Colfer. It brings the magic of classic fairy tales to life and shows them in a significant and entertaining way. 
The story follows twin siblings, Alex and Conner Bailey, who are very different from each other. The twin's lives have not been well, due to a tragedy they've been facing at home and the hardships that followed it. The tables turn when they are given a family heirloom from their grandma for their twelfth birthday: a book of fairy tales, one that has been very precious to them their entire lives. They soon find themselves in The Land of Stories, a whole other world where the well-known stories they love are real. They set out on a quest to get home, experience the wonders of the world, and are pitted against the dangers of the fairy tale land.
I really like this book because it references the world of the classic fairy tales that were introduced to the world by the Grimm Brothers and Hans Christen Anderson.  It presents them in a way that connects to both the classic version and in a new way that engages the readers. I also like how there are twists and turns in every new chapter, and how the characters' entire quest will eventually lead to their future adventures and discoveries in the magical Land of Stories.
The Wishing Spell is followed by The Enchantress Returns, A Grimm Warning, Beyond the Kingdoms, An Author's Odyssey and Worlds Collide. In addition, Chris Colfer has written many companion books to The Land of Stories, such as Queen Red Riding Hood's Guide to Royalty, The Mother Goose Diaries, The Land of Stories: The Ultimate Book Hugger's Guide, and many more. Chris Colfer has also recently published a prequel to The Land of Stories called A Tale of Magic, which came out in October. The Wishing Spell and its companion books are books no one should miss.