Learn Some More About Google Drive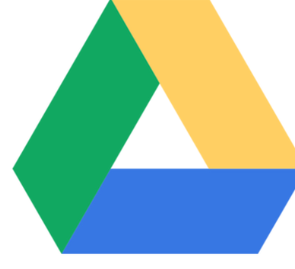 Gabe Hainzl, Writer
October 17, 2019
As you know, Google Drive has many features, but there are a few that you may not know about or how to use. Within this article you will find out more about Google Slides and Docs and how to make use of them better.
Looking to spice up your Google Slides presentation for class? You're in luck! There is a feature of Google Slides where you can animate your slides. When you select an object or text box in your slide go to the Insert menu, then click animate. This will show you several options for that piece, as shown to the right. With this you can select your piece to spin, fade out or in, and many more options. Wh
en you click animate there will be another option asking when the animation should trigger. If you select it to trigger after or with previous and it is your first animation it will play as soon as you enter the slide. If no alternate option is selected, the options will behave like expected; 'after' will have it play once the animation before was done. And 'with' will have it play at the same time as the previous animation. And also 'on click' will have the animation trigger when you click. You can make
more engaging slides!
Have you ever accidentally deleted a document or piece of work? Well, don't worry, since it isn't gone forever! If you scroll to the bottom left of the home screen then you will see a trash icon. Click it and you can see and recover deleted work. So, don't fret, you can recover work if you have made a mistake!
Another awesome feature helps you with spelling correctly. If you're tired of misspelling the same word over and over again, pause before correcting it using the pop-up menu. Click "always correct to <insert word here>" and before you know it, that word will not be wrong in the piece again, as long as it was misspelled the same way. You can autocorrect words!
Working with pictures on Google Docs and slides can be a hassle, but no more! If you want to change the color or transparency of the picture than click the picture and select image options. If you want to place an image anywhere in a Doc, choose "wrap text", and then you can move that picture anywhere on the screen without trouble. But maybe you're looking to overlay images on slides and you are having trouble with the background image covering up t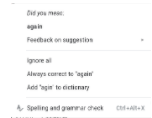 he other pictures? When using multiple pictures, after adding in each picture take a screenshot, press shift+ctrl with the button above the 6 key will allow you to screenshot an image to place in. Doing this will allow you to click and drag the area you want to be screenshotted; if you do the same but with the button above the 5, it will screenshot the entire screen. Repeat this process for an easier way to make images, backgrounds, and much more! You can make amazing pictures!
You've learned a few tricks about Google Drive. Next time you make a presentation use animation to make it more engaging. When you accidently delete a piece of work, don't fret since you can recover it. Once you misspell a word and you are tired of fixing it, now you don't need to anymore. Want to put in a picture, now you can. With new knowledge, you can start the school year off strong!
Down below are some helpful commands to shorten your browsing time.
Ctrl+a selects everything on a page
Ctrl+d adds a bookmark for your current page
Ctrl+1-8 moves you to the corresponding tab open; Ctrl+2 → 2nd tab
Ctrl+p print current page
Ctrl+alt+(fullscreen) take screenshot
Ctrl+alt+(button to the left of fullscreen)  take a more direct screen shot; click and drag to select where you want the screenshot to be taken
Want more shortcuts? Then check out Computer Hope for more Shortcuts!
Work Cited                                                                                                                                  "Google Chrome Shortcut Keys." Computer Hope, 3 Sept. 2019, www.computerhope.com/shortcut/chrome.htm.