Going for the Oculus Go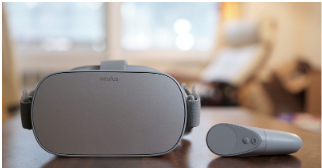 Zephan Deepu, Staff Writer, Senior Layout Editor
June 4, 2019
Technology is always advancing around us and a small part of that is Virtual Reality. The most advanced and popular VR headset is the Oculus. The Oculus Go is the newest version and it has a lot of controversies involved with it. This article will be discussing both the advantages and disadvantages of having an Oculus Go.
First of all, what does the Oculus Go really do? The Oculus Go is a portable virtual reality headset which you can stream many shows, movies, videos, and even play video games. Here is a picture of how it looks:
Whether you want to watch Netflix or go onto YouTube, the Oculus Go can do it. The Oculus Go can turn any room into a personal theater that is all for yourself. The Oculus Go is a portable VR device that can take you to a whole new virtual world to explore and browse whatever you want. The Oculus Go is also very famous for its ability to take you to live sports games. This VR makes you feel like that you are actually there. According to oculus.com, "Oculus Venues makes it feel like you're really there for live concerts, sporting events, comedy shows and more." This VR holds a price of $199.
Now it's time to talk about the pros of having this device. Many people that own this device say that the price very fair. The image quality is also said to be amazing. It's an easy setup without any wires, and because of this, it is portable. The VR contains an extremely large and diverse library of apps. People feel that they can socialize very freely through the VR as well and the VR is very famous for socializing. The Oculus Go is very useful for you if you want to escape into a virtual world filled with movies, shows, and social networks.
Though there are many benefits to this device, there are a few complaints to discuss as well. Many argue with the short battery life of a mere two hours. Not only that, but it takes three whole hours to charge it fully. The motion tracking is also very limited and it doesn't use the motion tracking as much as one would think. Finally, the storage is arguably low and limited so you can't download a buttload of apps. If these complaints bother you a lot, then the Oculus Go isn't for you.
So there you have it, the pros and cons of having the Oculus Go! Do you think you would be the person to buy this device or not? Even if you choose to take a pass on this device, the world of virtual reality is only increasing from here, and the company, Oculus, is planning to only improve on this design.