Murder Most Unladylike: A Bone-Chilling Mystery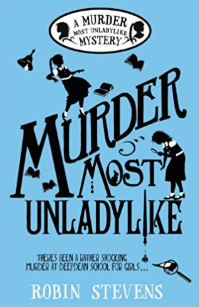 The book Murder Most Unladylike, by Robin Stevens, is an English murder mystery series with bone-chilling suspense. The book takes place at the Deepdean School for Girls, a boarding school in England, where the main characters, Daisy Wells and Hazel Wong, attend school. Daisy and Hazel have created a detective agency at the school, but the cases they investigate aren't fascinating. Everything seems normal until, one night, Hazel finds the science mistress, Miss Bell, dead on the gym floor. But five minutes later, when she and Daisy return to the gym, the body is gone.  
Soon enough, Daisy and Hazel are investigating the case at all hours of the day and night.  Daisy and Hazel discover a piece of evidence that leads to a shocking secret from the past. Their efforts show that things aren't always what they seem to be at the Deepdean School for Girls.
I like this book because it's an intriguing story with a shocking conclusion. The author, Robin Stevens, leads readers down an obvious path, but then takes an unexpected turn. It will compel readers to keep reading until the very end.  I also like this book because it provides information on English culture. I would recommend this book to anyone who enjoys mysteries or is curious about English heritage. The book is sold in the United States under the name, Murder is Bad Manners.