The Amazing Maze Runner Series: The Scorch Trials Review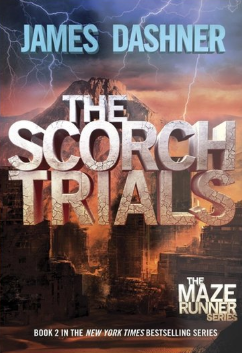 Emily Bongo, Writer
February 7, 2019
Hang on for a minute...we're trying to find some more stories you might like.
In the second book of the trilogy, The Scorch Trials, the Gladers have escaped the maze, and are put in 'protection',  away from the people who threw them in the maze in the first place. Unfortunately, the people who said they had saved them will not give them answers. The people bring them to an abandoned building, and the Gladers seek refuge there. But they split up Teresa and Thomas, and after a few days of putting their trust in these people, they don't hear from or see Teresa. Tired of being left in the dark, the Gladers search for answers. Soon, they find unpleasant clues and meet suspicious people that all have ties to the maze. Investigations go far when the gladers find an exit out of the refuge that they thought was a safe haven, and they look for the real safe haven, but something gruesome awaits them and they question the reason why they were put in the maze. The remaining Gladers come across one of the only cities left, to find out part of the truth about the maze. In the city, they make allies and enemies, and during the time Thomas is split up from his friends and is told the truth about the world outside the maze. The Gladers soon learn sometimes people you know may not be as honest as they seem.
The Scorch Trials revolves around finding answers for the treacherous maze, but it is balanced well with also trying to save themselves by getting to the rumored 'Safe Haven'. Author James Dashner hits the bullseye when it comes to adventure and action-packed moments. This book includes moments of sadness, betrayal, joy, and anger, but Dashner balances these emotions perfectly. The blend of them all makes this book the perfect, emotion-filled series that you'd want to read. Another reeling fraction of this book is the mystery of a sudden betrayal, the readers couldn't believe it and when they found out why it drew them in even more. Dashner has made the characters so relatable so you can feel the sadness and the anger when the events take a turn. All the readers feel connected to the characters because they can feel what they are feeling, and they grow to love the character's personality as the author slowly introduced them to you. Throughout the book the author introduces characters at the right times. Either the character is a foe or friend, but no matter, Dashner will throw the perfect protagonist or antagonist into the story.